Sabadell-Nieto Publishes Book on Women's Culture
---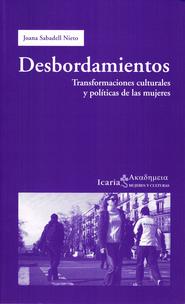 Associate Professor of Hispanic Studies Joana Sabadell-Nieto has published a book titled Desbordamientos: Transformaciones culturales y políticas de las mujeres (Overflowings: Cultural and Political Transformations by Women). The result of nearly a decade of research, the book is part of Icaria/Akademia's "Women and Culture" collection and will be presented in Barcelona later in the month.
Desbordamientos is divided into five sections – "Exceeding the national: telling histories," "Urban praxis versus immobility," "Linguistic excesses," "Language of war" and "Words towards peace" – and focuses on works of literature and thought, musical and business careers, political programs and social action. Sabadell-Nieto also presents alternative ways for improving urban life and making language more flexible in order to advance mutual understanding and peace.
"Women and Culture" is a feminist and gender studies academic collection published collaboratively between the University of Barcelona and the United Nations Educational, Scientific and Cultural Organization (UNESCO) Research Center for the Study of Women and Cultures.