Salzillo and Muirhead Prints Win Prizes in Purdue Exhibition
---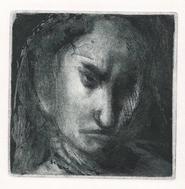 Curator Jenny Schmid, director of Bikini Press International in Minneapolis, Minnesota, has selected prints by Professors of Art Bill Salzillo and Bruce Muirhead for Sixty Square Inches, the 17th Biennial Small Print Exhibition at Purdue University Galleries. Both professors have been awarded prizes for their work.

For more than 25 years, the show has generated significant interest in the printmaking community. The show opens on March 8 and closes on April 25.

This year's exhibit provides the 17th review of North American graphic artists working in an intimate format. Schmid selected 52 prints by 50 artists, including two recent head studies by Salzillo, Square Clarabelle and Square Claudia, and Muirhead's Looking Glass. All three were completed in 2009 in Hamilton's print shop where students enrolled in intaglio printmaking courses and those engaged in independent projects could observe the artists' working processes from beginning to end.

Works by Salzillo and Muirhead have also been selected into the Lagrange XXVI National Biennial, a juried exhibition which showcases contemporary art in the United States.