Salzillo Displays Print in LAPS Exhibition
---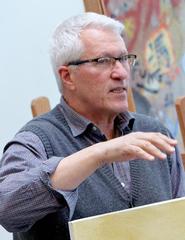 "The Nightingale," an intaglio print by Professor of Art William Salzillo, was selected for the 21st National Exhibition sponsored by the Los Angeles Printmaking Society (LAPS). The show runs Oct. 26 through Dec. 14 at the California State University Northridge Art Galleries. An opening reception will be held on Oct. 26 from 5–9 p.m.
The juror, Jack Rutberg, director of Jack Rutberg Fine Arts in Los Angeles, Calif., selected 56 artists from approximately 1,485 entries. Poli Marichal, the exhibition chair wrote: "It was a challenging task which required multiple viewings of the works entered for competition. After seeing his selections, we believe we are looking forward to an exhibition of exceptional merit."
Programs related to the exhibition include a gallery walk-through on Monday, Oct. 28, at 10 a.m., and a panel discussion on "Printmaking in the 21st Century" on Saturday, Nov. 9, from 2–4 p.m.