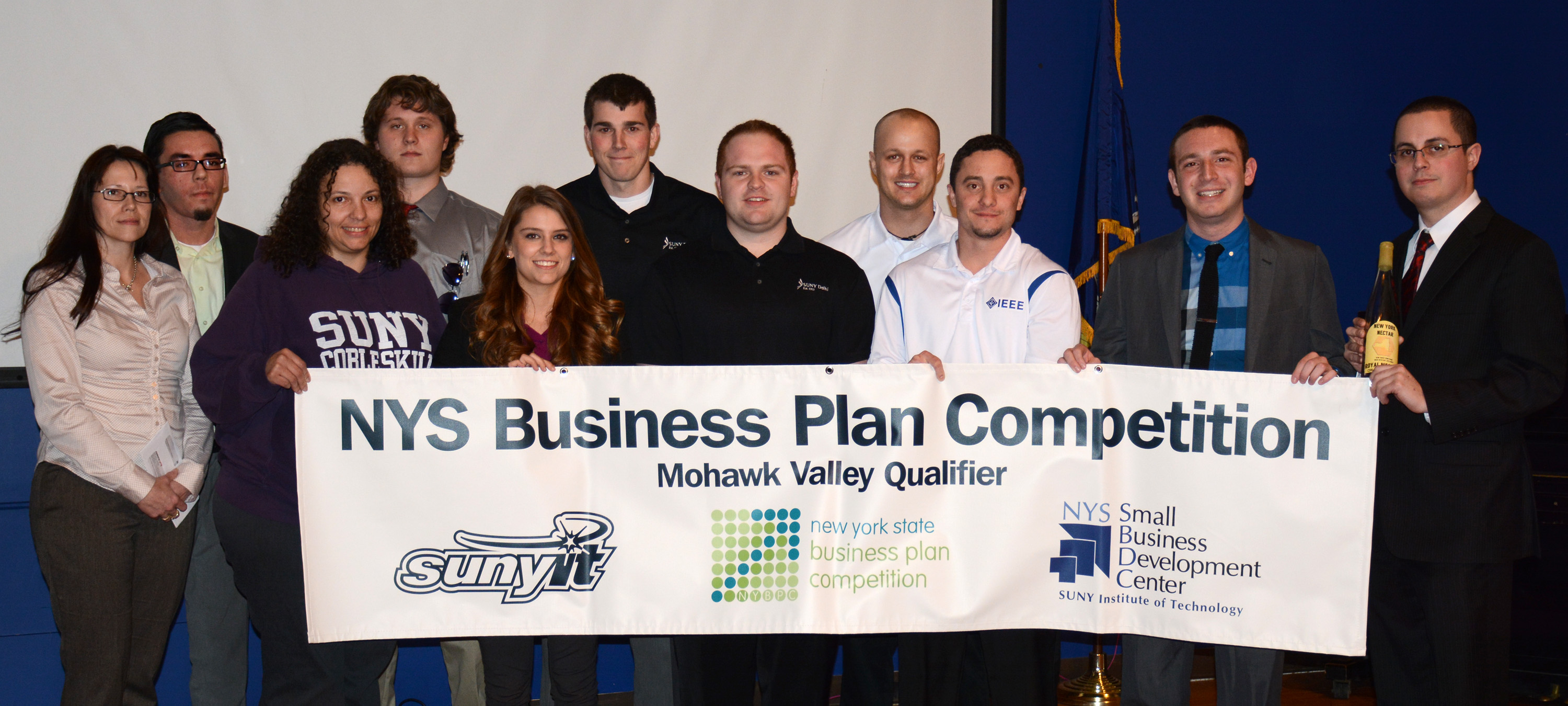 Six months ago, Samuel Matlick '17 competed with more than 50 other current students and recent graduates in Hamilton's fourth annual Pitch Competition. His win there encouraged him to forge ahead, hoping to bring his idea to fruition. A week ago, he presented his plan at a regional business plan competition hosted by SUNY Institute of Technology and he walked away a winner again.
Matlick's business idea came to him during his postsecondary year at Westminster School when he began buying electronics from other students and selling them through other outlets. Matlick is the founder and CEO of SellYourTech LLC, an online business targeting students and providing a platform to sell their "used and abused" electronics.
Prior to Hamilton's Pitch Competition, Matlick had no experience with pitching or business competitions. Going into it was nerve-wracking, but the coaching and mentoring organized by judges and mentors Hedy Foreman and Michael Fawcett '66 prepared Matlick for the regional event.
"Michael and Courtney (his son) have been instrumental in propelling my venture to its current stage," Matlick remarked. "I could not have done this without them. Michael is a wealth of information regarding how to handle daily situations that arise with various aspects of the business. Courtney is a financial expert (and generalist as Michael is), and has helped me prepare a highly sophisticated financial model, which provides estimates for the business's growth over the next five years, and may be used in the event of a buyout offer or the like."
Prithvi Tanwar, another Hamilton Pitch competition judge, "has also been an unbelievable help," said Matlick. Tanwar has helped on "drafting the terms and conditions and privacy policy for my website, and working in conjunction with a colleague of his to guide me through the process (and apply for) my now pending federal trademark on the company's slogan, 'Don't Trash it...Cash it!,'" Matlick explained.
Matlick described participating in the SUNY IT event. "This time around I felt much more confident going into it, knowing that I had one under my belt already—not to say that I still wasn't nervous," he said. "But I knew I just had to get up there and get the job done again."
At SUNY IT there were 31 teams competing representing nine schools. Matlick not only won his category but placed first overall in the entire competition with the only perfect score of 100 out of 100 possible points.
Since Matlick's company already exists his pitch was different than most others in the competition.
"I was pitching more of the potential of an already existing and functioning company, rather than an idea," he explained.
His pitch consisted of looking at market trends, making sure the company extended to college students, emphasizing how his company is better than the competition, and proposing how he plans to expand.
Matlick's reason for his dedication to the project is simple, "I've always been inspired by the TV show 'Shark Tank,' hearing the stories people have and how hard they are working to make their ideas a reality. The time I put into doing this everyday, the interactions I have with people because of it and my visions for greater success are what keeps me passionate."
The New York Business Plan Competition is set to take place in Albany on April 25 where Matlick will compete against the winners from the nine other regional qualifiers from around New York. This is one of the largest pitch competitions in the country, with over $500,000 in prizes, and the grand prize of $100,000.