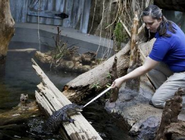 As part of Carlson's new position in Chattanooga, she is in charge of animal training, animal enrichment, and all the programming that happens for the public on the floor of the aquarium. Thus far, Carlson's main focuses in her promotion have been in the "non-fish" department, working with animals like penguins, otters, and alligators, though she also has experience working with fish.
Most recently, Carlson has been working in the newly expanded alligator exhibit (photo featured), which has grown from one alligator to thirteen. Carlson has been working hard to socialize the alligators and make their transition run smoothly.
Leading up to her promotion, Carlson spent four years after Hamilton working at the John G. Shedd Aquarium in Chicago, giving educational presentations to the public. Carlson then spent an additional four years working as a zookeeper at the Houston Zoo.
Carlson graduated from Hamilton in 2006 as a creative writing and theatre major. She believes her experience with theater at Hamilton allowed for a natural transition into her aquarium work, as much of it is performative, requiring the skill of connecting with an audience. Carlson further speaks to her Hamilton career as a means of learning how to apply what she learns in one area to another with confidence.
The alligator exhibit officially opened three weeks ago, and can be enjoyed by the public at the Tennessee aquarium in Chattanooga.