Sarah Damaske '99 Publishes Book
---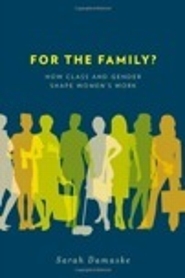 On Oct. 3, Oxford University Press released a book by Sarah Damaske '99 titled For the Family? How Class and Gender Shape Women's Work. The book challenges the belief that middle-class women decide to work and working class women have to work and demonstrates that middle-class women are actually more likely to work than working class women are. The book summary states:
"Sarah Damaske deflates the myth that financial needs dictate if women work, revealing that financial resources make it easier for women to remain at work and not easier to leave it. Departing from mainstream research, Damaske finds three main employment patterns: steady, pulled back, and interrupted. She discovers that middle-class women are more likely to remain steadily at work and working-class women more likely to experience multiple bouts of unemployment. She argues that the public debate is wrongly centered on need because women respond to pressure to be selfless mothers and emphasize family need as the reason for their work choices. Whether the decision is to stay home or go to work, women from all classes say work decisions are made for their families. In For the Family?, Sarah Damaske at last provides a far more nuanced and richer picture of women, work, and class than the one commonly drawn"
For the Family? has been awarded a National Women's Studies Association Sara Whaley book prize.
Damaske is assistant professor of labor studies and employment relations and sociology at Pennsylvania State University. She specializes in gender, work-family, class, and race. Her research investigates how competing forces of stratification, particularly gender, race and class, influence work and family transitions.
At Hamilton, Damaske majored in comparative literature. In 2005, she earned her master's degree in sociology from New York University. She earned her doctorate in sociology from New York University in 2009.