Sarah Sgro '14 Explores "Domestic Grotesque" in Fiction and Poetry
---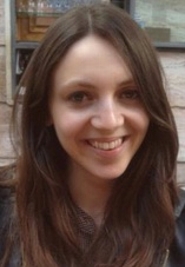 This summer, through an Emerson Foundation Grant, Sarah Sgro '14 is studying writing that, in her words, "confronts the realities of family and romantic life through a grotesque lens." In her project, "Family Gone Bizarre: The Domestic Grotesque in Contemporary Fiction and Poetry," Sgro is exploring how authors approach themes of domestic life in dark and bizarre ways. She'll then be examining those themes in her own writing.
Sgro is pursuing this project under her advisor, Associate Professor of English Tina Hall, who she credits with introducing her to many writers within the domestic grotesque genre. Sgro found Hall's collection of short fiction, The Physics of Imaginary Objects, very influential in her thinking about writing and is continuing to benefit from Hall's insight.
Works within the domestic grotesque uses a sense of hyperrealism to challenge the fantasies of domestic life. Sgro explained, "Sometimes this can apply to the portrayal of very gritty, depressed environments, whereas other times it can shape externally romantic suburban settings." She emphasized that the genre encompasses a wide range of writing, noting, "I've read stories about sadomasochism and sexual fetishes, a novel about a soon-to-be-engaged woman whose stomach suddenly stops accepting food, and a series of consecutive poems about the same failed marriage." As she's been reading, Sgro has found a strong feminist element present in many pieces. She observed, "To different degrees, each of the female writers I am reading confronts social and linguistic gender inequalities and challenges expectations about what literature can feasibly include."
Sgro is reading a combination of classic domestic grotesque writers, such as Sylvia Plath and Anne Sexton, and more contemporary writers, such as Lorrie Moore and Nin Andrews. In these readings, Sgro is looking at how domestic grotesque writing combines the familiar with the dark and unexpected. She noted, "I'm interested in how authors within this genre use bizarre or morbid narratives to convey these themes in an authentic and relatable way." She's found that although authors craft narratives that are sometimes shocking or violent, they remain relevant and telling about the realities of family life.
Sgro is exploring some of the themes of the domestic grotesque in her own writing. She is building on her examination of other writers, hoping "to study their take on form, diction, and domestic themes so as to complicate and enrich my own writing." She is emulating some of their techniques explicitly, by using second person in the style of Lorrie Moore and writing prose poems, such as those written by Nin Andrews '80. She is also using her own writing more generally to explore themes, such as fertility and femininity, that are central to the texts she's been reading.
Through her project, Sgro has also been able to gain more experience with different forms of fiction and poetry. In particular, she has spent a lot of time writing prose poems, something that is relatively new to her. She hopes that this exploration will be helpful going into her senior year, remarking, "As I move into the senior seminar, I really want to absorb as many forms as I can." She may also build on her understanding of the domestic grotesque in her senior project, commenting that she could see herself carrying over readings from her summer research. Because the domestic grotesque is such a wide-reaching genre, Sgro will have plenty to explore both in her reading and in her own writing.
Sgro is a graduate of Blind Brook High School in Rye Brook, N.Y.