Sarah Wayland-Smith '92 Co-Unveils A Clearing in the Streets in N.Y.C.
---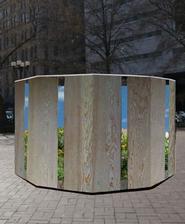 On May 27, Sarah Wayland-Smith '92 and collaborator Julie Farris unveiled
A Clearing in the Streets
, an outdoor installation in Lower Manhattan that highlights the contrast between the grayscale iron and concrete of New York City and the rich green of natural ecology.
Clearing
is a decahedral plywood chamber that protects a small meadow. Each plywood plank is set eight inches apart from its neighbor in order to permit limited visual access to the landscape within. During the next four months, the insular meadow will germinate and blossom, inviting repeat viewings. The project is sponsored by the
Public Art Fund
.
Wayland-Smith, an artist and landscape designer, and Farris, a landscape designer, are dedicated to incorporating the natural world into the urban environment. The materials used to construct of
A Clearing in the Streets
will be recycled in neighborhood gardens.
Sarah Wayland-Smith was born in Western Pennsylvania. She received her B.A. from Hamilton College in 1992, and her M.F.A. from the School of Visual Arts in New York City in 1999. For the past decade, she has worked as a designer for Maya Lin Studio and Balmori Associates. She has exhibited her art in New York City and throughout the North East. Sarah lives in New York City.
A Clearing in the Streets
is located at Collect Pond Park on Leonard Street between Centre and Lafayette Streets.
—
Jonathan Bannigan, adapted from Public Art Fund press release