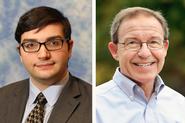 Oral Communication Center (OCC) tutor Max Schnidman '14 and OCC Director Jim Helmer presented at the National Association of Communication Centers (NACC) Conference held April 11-12 at Arizona State University.
Schnidman and Helmer presented together in a session on "Great Ideas for Teaching and Learning" (GIFTS). The presentation focused on connecting faculty and students with the Oral Communication Center through digital assessment, feedback and scheduling. It was based largely on work Schnidman has done as what Helmer calls the OCC's "chief technical officer."
Helmer also participated in two panels about challenges facing oral communication centers.
Schnidman said attending the conference was a great experience. "We had the opportunity to share our ideas with other centers and learned some fascinating things from other centers, which we are working on implementing here," he added.
The NACC Conference is an annual gathering of faculty, staff and students from communication centers across the country who meet to share research, challenges and ideas for best practices.