Scott A. Barrett '90 Appointed Assistant Dean of Advancement at SU iSchool
---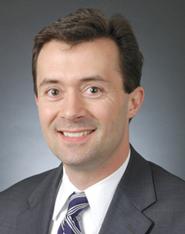 Scott A. Barrett '90 has joined the Syracuse University School of Information Studies (iSchool) as assistant dean for advancement. Barrett said "I am thrilled to be joining the team at the iSchool. It is a school with an outstanding reputation and is leading so many interesting and innovative programs. The enthusiasm of the faculty, staff, students and board members that I experienced throughout the search was very impressive." In his new position, Barrett will work to ensure the school's financial support so that students can receive the best education possible. He will also work to create a culture of philanthropy to engage the entire iSchool community in support of strategic initiatives.
Barrett joins Syracuse University after serving as the vice president of development at Loretto, the largest provider of eldercare in Central New York. He has also been the director of development and vice president for Advancement at Le Moyne College, and the executive director of the Friends of Bassett Foundation.
At Hamilton, Barrett studied government and participated in the Washington, D.C., program.