Scott Hand '64 Takes Hamilton Experience to Career in Mining
---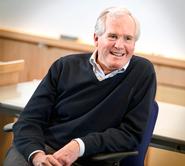 Miners may be most comfortable underground, but that was not evident when Scott Hand '64 spoke on the Hill on April 27. Hand, currently the executive chairman of the board of the Royal Nickel Company in Canada, previously worked for International Nickel and shared his views on Hamilton, the mining industry and the international economy.
He explained that he learned three major things from his education. The first was how to write well, the second was how to speak well, and the third was to use reason. Hand explained that all three were an asset in his career, especially in the business world. After Hamilton, he went to the Peace Corps and then law school. Hand cited the Peace Corps as another excellent life experience, and exhorted students to seize the chance to "live in another culture."
After the Peace Corps, Hand went to law school and practiced law for a few years. He left the world of law and became a corporate lawyer for International Nickel (Inco). At Inco, Hand was "seen as not just a lawyer," and was able to move out of the law department. He eventually rose to become the president of the company.

According to Hand, "the U.S. doesn't get mining." He noted that mining is more than simply digging coal out of the ground, and that it is a major international industry that serves as one of the foundations for international growth. Hand stated that metals were a major component of most of modern life, including roads, steel, houses, and consumer goods. He also observed that most mining takes place in developing countries and that mining companies are a force for good in these regions. Environmental consciousness was a major component of modern mining. An example of this was personal for Hand; after leaving Inco, he was asked to join the board of the World Wildlife Foundation.
Hand concluded by talking about the future of both the minerals industry and the global economy. He observed that while some people argue the Chinese investment bubble is bursting, "I heard these things 15 years ago," and he does not believe it will happen. Growth will continue in China and Southeast Asia for the foreseeable future, according to Hand. He also observed that China will produce high-tech goods that are presently produced in America and Japan.
Throughout the talk, Hand stressed that he was fundamentally optimistic about the future of the economy. He observed that America will recover from the current recession, noting that high unemployment is nothing new, and that America faced similar conditions in the Reagan era. He also expressed optimism about future growth in China and Southeast Asia.