Scott Sipprelle '85 Running for Congress
---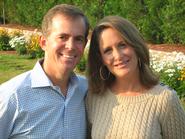 Scott Sipprelle '85 recently announced his candidacy for a seat in Congress, serving New Jersey's 12th District. He graduated Phi Beta Kappa from Hamilton College, with a concentration in economics and a minor in government and was the recipient of the Clark Prize in Public Speaking. He is married to Tracy '85 and their daughter Jessica is class of 2012.

According to his campaign website (www.SupportScott2010.com), Sipprelle is active in both the financial industry and in his community. He was a managing director at Morgan Stanley, founded the investment firm Westland Ventures and currently serves as Chairman of the Advisory Board at the Bank of Princeton. Sipprelle coached Princeton Little League for many years, is the Treasurer of the Historial Society of Princeton, and supports many philanthropical endeavors through the Sipprelle Charitable Corporation he started with his wife, Tracy. He recently authored the novel The Golden Dog.

Sipprelle first became involved in politics as an intern in the office of Senator Pete Wilson (R-CA) during Hamilton's semester in Washington program, but this is his first run for an elected office. In his announcement speech, the congressional hopeful said he wants "America to remain a place of hope and opportunity, where young people can work hard to achieve a better life."