Sean Ryan '94 Appointed New Receivers Coach for New York Giants
---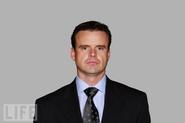 Sean Ryan '94, an assistant on the New York Giants football coaching staff since 2007, was recently promoted to receivers coach with the National Football League organization. Former Giants receivers coach Mike Sullivan was moved to quarterbacks coach, and Ryan took over the vacated spot. Ryan previously served as the offensive quality control coach. Ryan quickly impressed head coach Tom Coughlin with his assertiveness as an offensive assistant.
"Sean has made outstanding progress as a young coach," Coughlin said in a statement. "Last spring, when Mike Sullivan was working with a very young receiving corps, Sean was very instrumental in working with that group as well."
In training camps and all throughout the fall, Sean primarily worked with the wide receivers. The experience working with these players gave Coughlin confidence that Sean is ready for his new assignment. According to Coughlin, the Giants "feel like he's a young aspiring coach who certainly is prepared for his first assignment at the pro level with regard to a position."
Ryan graduated from Hamilton with a concentration in American studies. He was a member of the men's varsity football team and a brother in the Delta Kappa Epsilon fraternity. He went on to receive his master of arts in education administration from the University of Albany in 1999. He currently resides in New Jersey.