Sean Tice '06 and Brooklyn Slate Achieving Success
---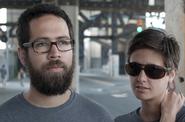 In "A Cheese Board That Names Names," the New York Times recently featured Sean Tice '06 and his company Brooklyn Slate in their Dining & Wine section. Brooklyn Slate is a collaborative effort between Tice and Kristy Hadeka that began after the two visited her family's slate quarry in upstate New York in 2009. They brought home a few pieces to use as all-purpose boards and gifted some to friends. The slate was so popular that they decided to start their own business.

Brooklyn Slate offers cheese boards, coasters, and placements, as well as other food supplies. Tice and Hadeka still visit the family quarry, bringing their favorite pieces of slate back to Red Hook, Brooklyn, where they cut and clean the stone. Their products are sold throughout the United States, as well as in Canada and the United Kingdom.

At Hamilton, Tice majored in English literature and was a member of Sigma Phi.