Second Ham Cram & Scram Collects Tons
---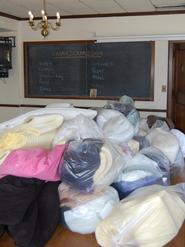 After last year's successful launch of Ham's Cram & Scram, the recycling effort is back and it appears that it will surpass last year's collection.

The purpose of Cram & Scram is to collect recyclable/reusable items from residence halls – everything from furniture and appliances to clothing, books and unopened food items. Rather than throwing the items away and sending them to the county landfill, they are collected and sorted for reuse.

"A small group of very committed students are processing the recycling and reuse items and reducing our burden on the local landfill by at least 40 tons," said Terry Hawkridge, assistant director of grounds, horticulture and arboretum, who first brought the Cram & Scram idea to Hamilton.

With the items collected from last May's inaugural Cram & Scram, a tent sale was held on campus at the beginning of the 2008-09 academic year. Another sale will be held in August before classes resume and Hawkridge promises that "it will be spectacular."

Items that are non-saleable go to various non-profit agencies: bedding goes to Steven Swan Humane Society; clothing is sent to the Salvation Army; food goes to the Clarks' Mills Food Pantry; used text books are sent to the Prevent Child Abuse New York Organization. Bicycles are donated to the Underground Cafe.

Hawkridge said, "The freshman class was the first beneficiary of the reuse collection of Cram & Scram. So, not knowing any different way, they dropped off their own items for reuse this year." The crew was led by senior Ashley Langer.