What's The Big Idea?
---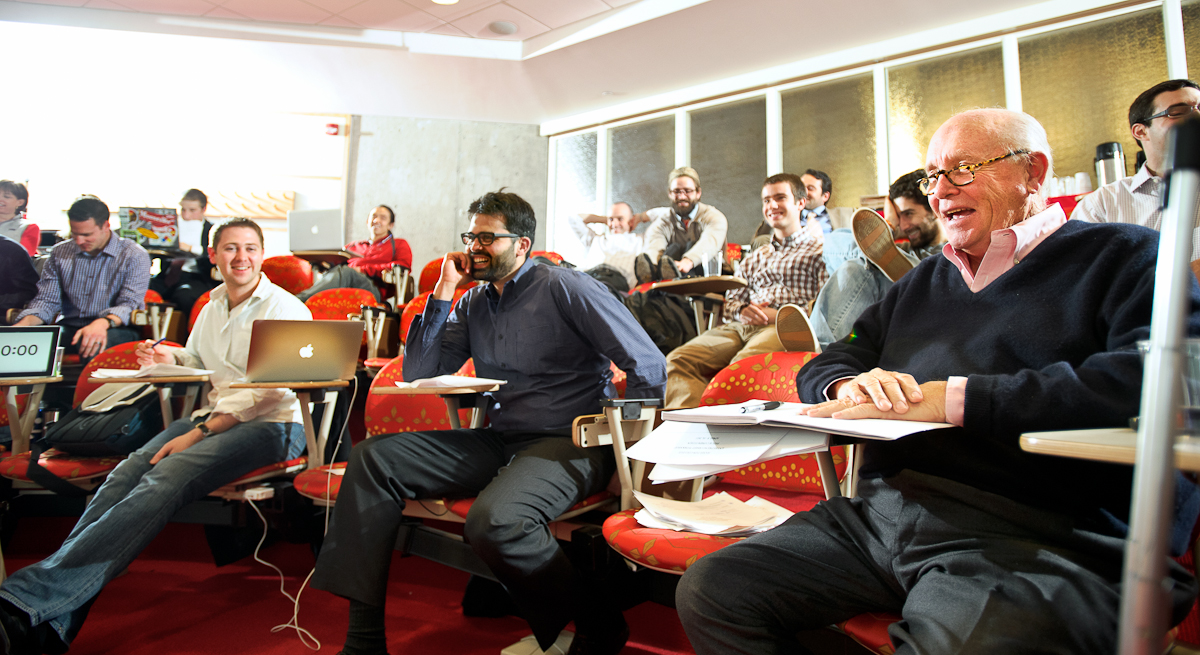 When Mark Kasdorf '06 graduated from Hamilton, he didn't know the first thing about entrepreneurship—the jargon, the strategies, the possibilities.
"It was a whole world that wasn't visible to me," he said. "I wanted to make the world visible to Hamilton students."
And in 2011, Kasdorf did just that. He organized the first Hamilton Pitch Competition, inviting students, alumni and friends to propose their ideas for new businesses to a panel of judges. On the weekend of March 30 to April 1, the second annual Pitch Competition took place in Kirner-Johnson's Red Pit.
Other judges included Michael Fawcett '66 and Hedy Foreman of Meacham Woodfield, LLC; Dave Bisceglia of The Tap Lab; and Prithvi Tanwar of Foley Hoag LLP.
"The quality of the companies this year is amazingly higher than last year," said Kasdorf. "No, quality isn't quite the right word. It's the thought behind them. A lot of alumni have come back, and they're very serious about something. They've been thinking about it for weeks, or months, or even years, and they're using this weekend as the spark to do something about it."
"The winner will be the one with the most effective pitch, which is not always the most interesting idea," said Michael Fawcett '66, one of the competition's judges. "It's about how you take an idea and expand it into a business and a success."
Jerome Noel '09 was the winner of last year's competition, making his drive from Indianapolis to Clinton, N.Y., worth the trip.
"I had two concepts in mind that I wanted to expand more when I met with the judges," he said. "After refining one of the concepts I came with, I pitched a high-end price fixe restaurant with a nano-brewery attached. The idea would be to focus on food and beer pairings."
Noel recalled a moment from last year's awards ceremony: "I named my concept 'Marquee,' which I meant to have as a placeholder. When they announced the winning pitch, I thought they were saying someone's name, 'Mark Key,' and I didn't know I won until people started looking at me."
Since the pitch competition, Noel has moved to Boulder, Colo., and is now working for Pizzeria Locale, a restaurant recently opened by the management team of Frasca Food and Wine.
Nick Richards '12 was a runner-up in last year's competition.
"The experience gave me a new career focus after deciding I really wasn't interested in going to medical school," said Richards. "As a result I looked for business related jobs for after graduation and will be working in consulting next year."
This year, Richards took on the pitch competition again, with Emma Leeds '12 as his partner. Last year, Leeds helped a friend prepare a pitch, but this was her first year participating in the competition.
"I've worked with a few start-up companies in marketing, so I'm always excited to get involved with these kinds of ventures," she said.
"We met during Hamilton Alumni Leadership Training (HALT), and we gave a talk on LinkedIn together," Leeds said. "We presented really well as team."
"We have a pretty interesting partnership because we have really different skills," she added. "Nick does much more of the finance modeling, and I understand more of the marketing side."
Richards and Leeds pitched a new social media platform, QuickOp, on Sunday.
"It's a social decision maker," Leeds explained. She provided as an example the dilemma of choosing a senior formal dress. Their platform allows the user to place dress options on a page and share that page with members of the social community. The user has the option of sharing with specific connections, or with his or her entire QuickOp social network.
Another growing media trend that appeared in the competition is the use of QR codes. Teddy Clements '14 and Ben Yudysky '14 presented Barcode Connections, a company that generates QR codes for its clients and provides tracking and analytics services for the codes. Clements pointed out a serious pain point in print marketing: its effectiveness is difficult to measure. Using web analytics, companies can assess the traffic that their QR-coded ads are generating.
Though many of the pitches were hypothetical, Barcode Connections is an up-and-running business, with Clements as its founder and Yudysky as a full-time partner.
Clements and Yudysky both play on Hamilton's men's soccer team. Yudysky said, "[Clements] just mentioned [Barcode Connections] to me. I saw a lot of potential in it."
Some professional relationships grow out of friendships. Others have familial roots. Pat Mahoney '02 and his sister, Liz Mahoney, presented a pitch for a local food truck, called Ripe. The Mahoneys invited the audience to imagine a fast casual dining experience that promises freshness and quality. Based in the Philadelphia area, Ripe's target customers would be commuters, hospital workers and university students.
"I was managing a restaurant, and Pat came and worked with me," Liz Mahoney said. "We got to see what it was like working together. I could be very serious… but he would also make me laugh."
The Mahoneys weren't the only sibling pair at the pitch competition. Though they did not compete as a team, Mark and Chris Kasdorf '09 co-founded Intrepid Labs, a coworking space for startups in Cambridge, Mass.
"It's a shared office space where multiple companies can come in, work their day-to-day operations and not worry about running an office," Chris Kasdorf explained. Because the growth of a startup is hard to predict—the company could quadruple its size in a year or tank completely—coworking spaces are better suited to these new businesses than other offices in the Boston area, which typically have three-year leases, according to Kasdorf.
On Sunday evening, Mark Kasdorf announced the winner and runners-up of the pitch competition. The third runner up was Samantha Sherman '15, who won an iPod touch. Her product, Choreos, was inspired by a family recipe; her mom has been covering Oreos in chocolate ever since she can remember. The Choreos themselves were a hit with the judges, as Sherman brought samples to her pitch.
"We usually give them out as gifts to teachers and doctors," she said.
The Mahoneys were the competition's second runners up for Ripe. They took home an iPad 1.
Bill Getman '09 and Jeremy Busey were this year's first runners-up. Their business, Chase and Speakman Distillery, is a Boston-based company that does custom distilling for enterprises. Because Busey already has one, Getman excitedly claimed the team's prize: an iPad 2. On top of the gadget, the team won the opportunity to pitch to a top-tier venture capitalist in Boston, when they are ready to do so.
The winners of the competition were Kevin Bourque '05 and Josh Kunkel '04, who presented their product, Faceglove. Bourque clearly identified a problem that his product sought to solve when he spoke about his love of outdoor sports, such as hiking and skiing, and his struggle with skin cancer. Faceglove covers the skin across the bridge of the nose and under the eyes that typically is exposed when a person partakes in extreme outdoor activities, preventing damage to those sensitive areas. The Faceglove team, which has already begun testing its product, left the Hill with $5,000 in legal services from Foley Hoag, an iPad 3 and key pitching and networking opportunities.
"Hamilton College has always been known for its exceptional development of verbal skills in its students… that refers to both written skills and oral skills," said Fawcett. "The success of any entrepreneurship depends on how well you can convince your audience that the idea is good, that it will make money and that you can execute it—brilliantly."