1812 Garden Develops Rare Seed Varietals
---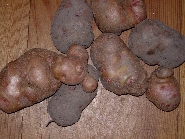 With the approach of spring, seed catalogs have begun to appear in mailboxes. One of these, the
Seed Savers Exchange
(SSE) catalog, includes two rare seed varietals cultivated in Hamilton's
1812 Garden
. The garden was registered as a Listed Member of the SSE in 2009.
"Cups" potatoes and "Katie Wheeler" calico flint corn are the two varietals that have been cultivated on campus. The "cups" potatoes are descended from pre-1770 tubers that survived in the Beamish Museum (Durham, England) and represent one of the oldest surviving European/North American potato varieties. "Katie Wheeler" is a grinding corn that was originally collected from Iroquois Nation seed savers.
According to the SSE mission statement, "Seed Savers Exchange is a non-profit, member supported organization that saves and shares the
heirloom seeds
of our garden heritage, forming a living legacy that can be passed down through generations. SSE members have distributed an estimated one million samples of rare garden seeds since our founding nearly 35 years ago. Those seeds now are widely used by seed companies, small farmers supplying local and regional markets, chefs and home gardeners and cooks, alike."
SSE defines an heirloom as any garden plant that has a history of being passed down within a family, just like pieces of heirloom jewelry or furniture. Some companies have tried to create definitions based on date, such as anything older than 50 years.
Spawned by
"Food for Thought: The Science, Culture, and Politics of Food"
taught by Associate Professor of Russian Frank Sciacca and Professor of Biology David Gapp, the 1812 Garden is a recreation of an early 19th century Central New York kitchen garden that offers historical and cultural perspectives on sustainability. Sciacca is the co-leader of the Slow Food Central New York-Leatherstocking Chapter. Slow Food USA is a non-profit educational organization dedicated to supporting and celebrating the food traditions of North America.