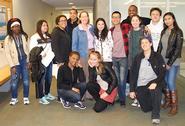 High school students from The Urban Assembly School for Emergency Management (UASEM) in New York City visited Hamilton on April 16 -17 to discuss privacy in the digital age with a group of Hamilton students. The fast-paced conversation included fundamental questions related to distinctions between adult and adolescent perspectives on privacy and reputation management.
The Hamilton students are enrolled in an innovative seminar titled "Privacy, Policy, and Digital Communication." They are working with the high school students on a digital privacy toolkit that could be shared with adolescents in the future to explore digital privacy.
The larger goal of the seminar is to understand how privacy, freedom and democracy are intertwined. In February, Hamilton students enrolled in the seminar visited the UASEM students in Manhattan to begin the conversation on privacy and social media.
This work is made possible with funding from the Levitt Center and assistance from Hamilton's Library and Information Technology Services.