Seneca Falls Sculpture Trail Studied
---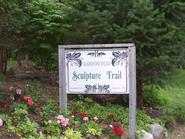 Visiting Assistant Professor of Communication Heather Ferrara and Kate Northway '11 are working on an independent research project exploring points of controversy surrounding the Ludovico Sculpture Trail in Seneca Falls, N.Y.

According to Ferrara, the Ludovico Sculpture Trail was created to commemorate "historic events, local business and individuals who have had an influence on Seneca Falls and the surrounding areas. Specifically, the trail commemorates historic persons within the women's movement, such as Amelia Bloomer and Mary Baker Eddy, and contemporary local figures such as the first female police officer and first woman mayor." She says the trail lacks aesthetic appeal and is underused.

Ferrara and Northway are both interested in local movements, women's rights and history. They will study how both the trail's construction and its current state are perceived in the local community. They will also explore the social and economic impact of the village's dissolution on the events the sculptures commemorate. Through the project they hope to bring attention to the trail and find ways to make it more accessible and enjoyable for the community.