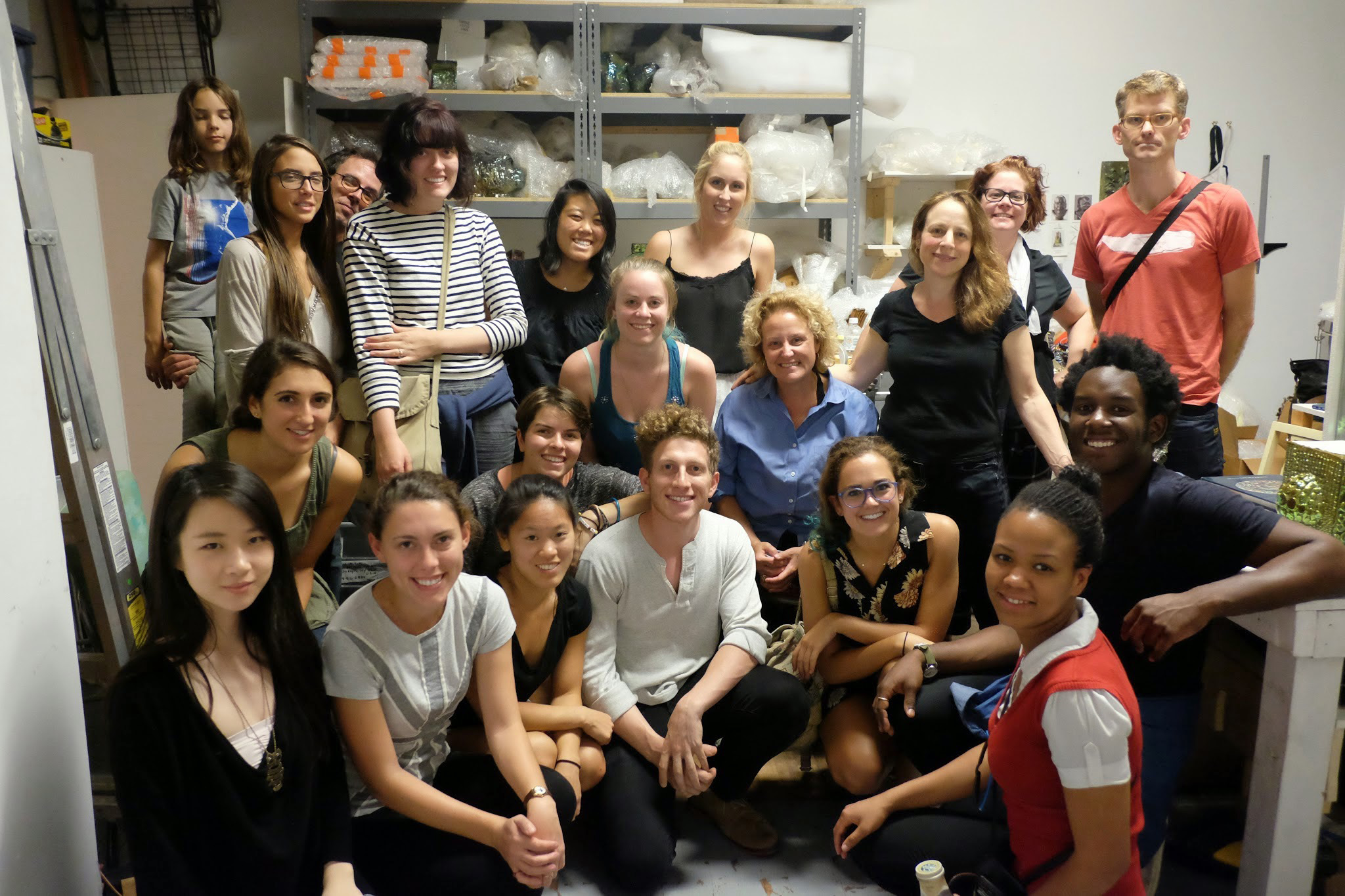 Among the opportunities that the Hamilton Art Department provides its students is the annual New York City Artist's Studio Tour. On Sept. 11-13, the senior art concentrators, led by professors Katherine Kuharic, Robert Knight and Rebecca Murtaugh, ventured to New York City to visit the studios, galleries and homes of five practicing artists.
The seniors—Kate Bickmore, Izzy Bradford, Laura Donaldson, Lesley Klose, Jessica LeBow, Sky Li, Weconday Murray, Hideko Nara, Cassie Pepin, Sarah Scalet, Sean Smith, Kaily Williams and Sara Wortman— met with the artists, viewed their work and their studio spaces. The students were given access and insight into the varied processes each artist uses to make their work, and were able to ask questions about the challenges of being working artists.
The artists included painters Mike Cockrill and Angela Dufresne, sculptors Rachel Beach and Julia Kunin, and photographer/media collage artist Will Steacy. Each of them talked about exploring with different mediums, processes and topics until the work "feels right."
The artists were inspiring and helpful, particularly at this time of year when the seniors are just beginning their own projects, which will be shown in The Wellin Museum in May 2014. The artists confirmed that making art can be challenging and frustrating, but that there is a common need to create. Their messages reassured the students that it is normal to feel overwhelmed or not know how to start, but that they just have to get in there and start creating. As sculptor Julia Kunin remarked, "I'm not always sure what it means and what I'm doing" but she explained that she has a need to create and explore. Angela Dufresne assured the students that, "people will care if you find that fun place of engagement."
The experience provided insight into the frustrations as well as rewards of being a working artist. Sean Smith commented after the visits, "It was so helpful to see how each artist utilized their space and figured out their processes." Weconday Murray added, "It really inspired me to follow what I want to do. To just drive right into it and be comfortable that I will figure it out as I go."
The seniors and the Art Department thank the Dietrich Foundation and the Kirkland Endowment for their support of this once in a lifetime opportunity.