Senior Art Majors Take New York
---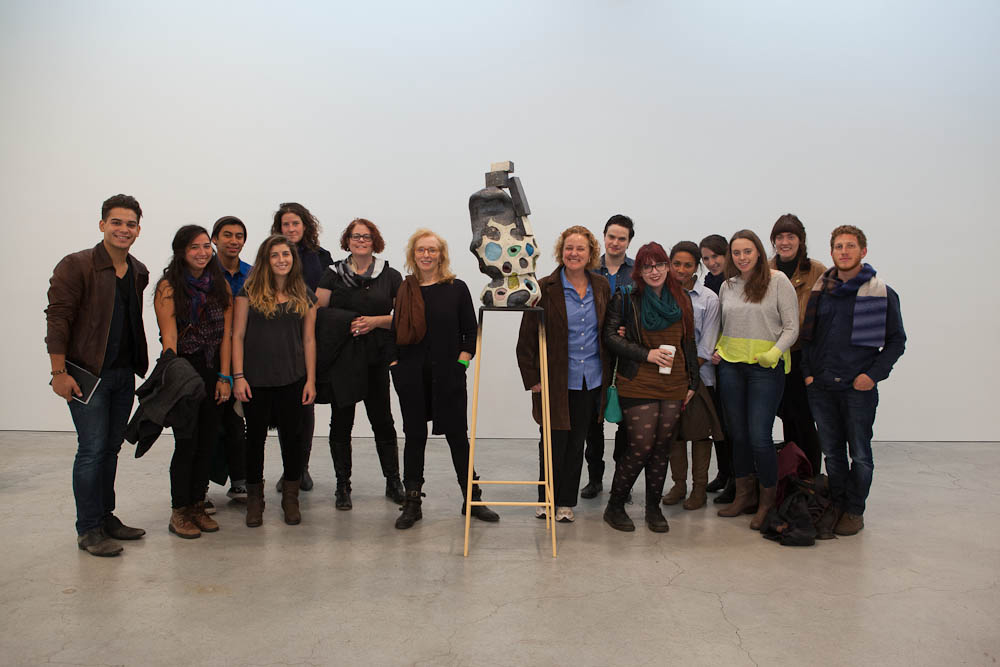 As artist Arlene Shechet explains, "Part of the process (of making art) is seeing art and talking about art." Hamilton's senior art majors had the opportunity to do just that on Oct. 25-27, taking a break from their own studios to go to New York City to visit five practicing artists.
Students got the chance to see the artists' work, talk to them and ask questions. In the midst of midterm critiques with late nights spent working on theses it's sometimes hard to keep the larger picture in perspective. Art takes time, these artists reminded the seniors.
The seniors participating were Michael Arroyo, Jaime Cabrera, Sam Finkelstein, Mollie Majoy, Deanna Perez, Alison Ritacco, Abby Saks, Ben Salzman, Alex Smyrnos and Mackenzie Theobald.
This annual trip is the brainchild of Katharine Kuharic, the Kevin W. Kennedy Professor of Art, who works to schedule the artists in conjunction with professors Rob Knight and Rebecca Murtaugh. The three took students across the boroughs of New York in order to provide this one-of-a-kind opportunity.
The artists students met with were sculptor Arlene Shechet, painter Keltie Ferris, photographic media/collage artist Lyle Ashton Harris, realist painter Ellen Altfest and feminist artist Martha Wilson. These artists explored a wide range of mediums and processes. Many emphasized that the actual process of making art, from its conception to its final stage, is just as important as the finished piece. Seniors were fortunate enough to see the early process of some these artists' works.
The artists didn't just talk about their current artistic work. Many of them spoke about their own story and how they became practicing artists. This gave the students invaluable advice at a crucial time. The seniors got a remarkable inside look at the challenges, hardships and rewards of being a working artist.
Assistant Professor of Art Robert Knight commented, "The NYC Studio Tour provides an essential opportunity for our seniors to visit with practicing artists, learn about their working methods, ask questions about the career path they chose and see new art works in process. I'm excited to see how this year's tour will influence our students at such an important point in the development of their senior projects."
Seeing artists work in studios and galleries was insightful as the majors prepare to show their own work in The Wellin Museum in May.
The trip is supported with funds from the Dietrich Foundation.