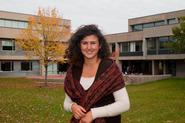 "Your body knows something that your mind has forgotten," says Autumnrose Haroutunian '10. As one of three 2009-2010 Senior Fellows, Haroutunian is familiarizing herself with a concept known as phenomenology, a philosophical approach to issues of space and embodiment. More specifically, it professes a necessary break from the Cartesian dualism that separates mind and body. By forming a system with the objects of its perception, the body builds a foundation for an inter-subjective experience. Thus the concepts reflected on by the mind are second-order expressions of the world as we live it.

Her project is titled "Psycho-Architecture: An Exploration of Phenomenology, Intention, and the Construction of Human Consciousness." The Senior Fellowship Program offers students with unique interests outside of the normal curriculum to pursue independent study. Students are exempt from the normal course load during their senior year; instead they focus on a written thesis that they present to the community at the end of the spring semester. They may elect to take courses if they wish to accompany their research with an awareness of related subjects.

Haroutunian's primary advisor for the year is the Sidney Wertimer Associate Professor of Philosophy Marianne Janack, and her secondary advisor is Associate Professor of Art History Steve Goldberg. Both professors have expressed an interest in phenomenology and its conjunction with spiritual art and architecture.

Phenomenology's aim is to render the conscious mind more objective than subjective – that is, proponents of phenomenology believe that the interpretation of reality should not be confined to the limits of individual perception. On the surface, most people would not find this argument troublesome. But Haroutunian says that the body, specifically, extends through the space it inhabits and creates meaning from it, an idea that emphasizes place as a lived experience of space.

"We always want to overlook the body and look at things as if we were standing above them," she says. "We forget that if we move through space and gain meaning from our own perception of its contents, then we know it's all connected."

She is reading critical works by the fathers of phenomenology, Edmund Husserl, Martin Heidegger, and Maurice Merleau-Ponty, and those that applied their ideas to architecture. The central concept of these writings is the idea of "dwelling:" the nurture of man's connection to the natural world. Architecture is thus the human ecology and man's principal mode of movement and meaning making through space.

Haroutunian's uncle designs estates for a living, and because he posed as her father figure for most of her life, she feels a strong affinity for architecture. At the same time, her mother is a shamanic healer, and therefore contributed to her spiritualism. According to Haroutunian, the union of construction and consciousness results in the notion that objects are merely extensions of the human body. In the same way that a pianist draws from the keys an almost human quality, phenomenology says that bodily intentionality (the term given to a body which "stretches" out toward an object) refuses to take space as passive.

Last semester, Haroutunian studied Buddhist stupa architecture in Nepal. She also attended an art school in Italy before coming to Hamilton. Now she wishes to merge her two passions – art and architecture – in a philosophical approach. She says the impact her advisors have had on her is monumental. "Professor Janack gave me a vocabulary that changed how I experience the world," she said. "She's absolutely brilliant –but not just in her head. She really feels her way through this material. We're on the same page about a lot of things."

For Haroutunian, phenomenology is not just a discipline. It's a way of life. "Phenomenology is something that is great to experience in yourself apart from anything you can study," she said. By writing a paper upwards of 150 pages on the topic, she will not only become an expert on the subject, but she will create her own "language." She opposes what is sometimes referred to as "vomit pedagogy," an educational method that forces students to read without feeling.

"It will never change you," she said. "It will never be chewed and digested and moved through you." Instead, Haroutunian believes we should have visceral reactions to what we read and absorb. We should want to feel something if and only if we recognize it within ourselves first.

Many of Haroutunian's beliefs originated in her education at an alternative school inspired by the Austrian philosopher and teacher Rudolf Steiner. The Waldorf Schools cultivate the creativity and imagination of a child and do not assign homework or administer tests. Attending Hamilton was Haroutunian's way of proving she could survive in traditional academic sense. Nonetheless, she credits her mode of thinking to her past. Perhaps her life experience is best summed up in 19th century clergyman Arthur Buckminster Fuller's words, "I seem to be a verb."

After Hamilton, she will consider going to school for architecture. But she won't stay put in the U.S. As a visual and kinesthetic learner, Haroutunian needs to travel as she has been doing all her life. No matter where she goes, though, foreground and background will become one as she radiates herself and her ideas onto the world.

Haroutunian is a graduate of Miss Hall's School. Student author Allison Eck '12 is a graduate of Clarence Central High School.