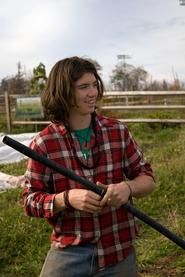 "Agriculture has been the most influential way that humans have altered the natural world," says Senior Fellow Christopher Sullivan, "but it is also a force that alienates us." Sullivan says that during his college career he has become increasing interested in how agriculture and human interaction with the environment can provide insight into our existence. His project is titled, "Culture and Cultivation: an Exploration of the Agrarian Philosophy and Implications of an Agricultural Existence," and centers around his passion for the under-recognized study of agriculture.
Sullivan is one of up to seven seniors chosen each year for the Senior Fellowship program, a program which offers students with unique interests outside of the normal curriculum to pursue an independent study. Students are exempt from the normal course load during their senior year; instead they focus on a written thesis which they subsequently present to the community at the end of the spring semester. They may elect to take courses if they wish to supplement their research with those particular courses which may aid in their educational endeavors.
Three summers ago Sullivan worked at a farm in Alaska, where he began to notice the profound effect of agriculture on daily life. Following his experience there, he was fairly confident that he wanted to study abroad. A 12-week study in the Caribbean exploring the field of oceanography enhanced his interest in the earth sciences, and Sullivan eagerly returned to Hamilton in hopes of beginning the 10-page proposal required for the Fellowship Program application. Professor Peter Cannavo, a government professor whose class "Politics and Theory of Place and Space," influenced Sullivan immensely, became his principal advisor. Professor Wyatt Galusky of SUNY Morrisville became his secondary advisor. Galusky has lectured at Hamilton in the past and taught a course called "Nature and Technology," an environmental philosophy course which also inspired Sullivan to depart from the traditional environment studies major.
In his studies this year Sullivan hopes to unearth a new understanding of nature and how different types of agriculture reflect human behavior. "Agriculture consists of different modes of existence, rather than just a way to produce food," he says. He explains that industrial agriculture is especially disconcerting because a very large percentage of it involves no direct connection to the land. Sullivan is concerned that this kind of agriculture reduces our ability to see that "we are primarily agricultural beings." The system that supports us is agriculture, he says, and this "mediating force" guides how we interact with the earth and each other.
After finishing his first semester as a Senior Fellow, Sullivan is thankful for the opportunity. "I feel really lucky to be able to study what I care about, especially because it's a project not covered in the curriculum," he comments. Students may think that being a Senior Fellow would be much less stressful, given the advantage of not having to take classes. But Sullivan claims it is not as easy as it seems. "There are many courses I'm choosing not to take, that seem very interesting to me," he notes. "What's difficult about the program is the time management." He mentions that having the freedom to spread your work out over long stretches of time isn't exactly a blessing. It requires discipline and planning ahead.
"I plan to have the first three chapters of my thesis written before I return after winter break," he says. There will be a total of six chapters.
Outside of his studies, Sullivan keeps himself busy with many activities on campus. He is an officer for the Hamilton Outing Club, has a radio show and is an Adirondack Adventure leader. In addition, he lives in the Woollcott Co-Op, which is a residential hall in which students plan, prepare and cook their meals. The housing situation is perfect for Sullivan because it emphasizes his intimacy with food and nature. The residence hall's walls are painted with bright flowers and lush vegetation.
Last fall, a handful of students initiated a project in which Sullivan has absorbed himself. The administration decided to fund a Community Farm, entirely run by students. The farm is half an acre and grows organic vegetables. Sullivan and others grow the food and sell it to the local customers and Bon Appétit. The project is quite extraordinary, and students may be surprised to know that some of the food they eat is grown right on campus. Community members share in this learning experience, as well – many villagers have individual plots of land they can attend to.
What does Sullivan have in store for the future?
"I am unsure about my plans, but I know that agriculture and human interaction is an issue I'm going to be thinking about for a long time," he concludes. "Right now, I just look forward to travelling with friends and making a home together. I want to live my life with the people I love."
-- by Allison Eck '12
Related Information
Senior Fellowship Program