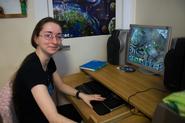 Over the past decade, Senior Fellow Kyla Gorman has closely followed the development of narrative structure within video games. As a computer science major and creative writing minor, her growing interest comes as no surprise. "I've played video games since I was little, but I also always wanted to be a novelist," she explains. "Slowly, I realized that the intersection was in video game story design."
However, Kyla soon realized that very little was studied or published on the form—although games comprise a burgeoning industry, it is still too young to have been integrated into the academic arena. Yet Kyla feels that this omission reflects a misjudgment; she sees these programs as "a sign that work can be done in any medium where you can tell a story…games are like any other medium, they just have different quirks." She points to their popularity among younger generations as potential for furthering channels of creative expression. In her view, this market presents an opening for new avenues of connection with youthful audiences. By ignoring this generation and the rapidly progressing quality of video games, the academic and artistic communities are missing a viable opportunity to stimulate growth and learning.
In recognition of this vacuum, Kyla has decided to apply her interests and skills to filling this void. She first heard of the Senior Fellow program two years ago through a fellow student in her major. Kyla's original plan was to incorporate her own creative writing background into the computer science aspect of her project by creating an original video game. Yet when she began researching various programs and methods, the lack of available published material on the subject became apparent.
Thus, she modified her proposal to the publication of a book that would examine the potential of the medium within the academic environment. Following the publication of her book, Kyla hopes for a career within the video game industry, where she will apply her studies to creating games that address the growing demand for products that offer creative, intellectually stimulating advances in a constantly progressing field.
Upon learning of her selection as a Senior Fellow, Kyla began researching the appeal video games hold for consumers. From this, she gathered information regarding both positive and negative features, as well as advice on future improvements and potential creative advances. One attraction that is frequently cited is the interactive element of games; while other art forms (i.e. novels and film) may construct elements of suspense, the events and resolutions are preordained. However, video games offer a variable narrative: the controller's decisions affect the pacing and direction of the storyline. Each time a game is played, different actions yield fresh results. Such expansive options provide greater freedom for creative expression, thus appealing to a diverse spectrum.
While few professors on campus have critically studied video games, Kyla works closely with both Stuart Hirshfield, the Stephen Harper Kirner Professor of Computer Science and Associate Professor of English Doran Larson to unify both aspects of her research. "It's nice to be in a place where I can pursue an interest that doesn't fit into a specific discipline," she says of Hamilton. "If you have a goal, there are people who will help you achieve it…it's a great approach, because it emphasizes the importance of ideas rather than rigid academic requirements.
Kyla's final project will be presented at the end of second semester, along with those of the other four Hamilton College Senior Fellows.
-- by Sarah Caney '09
Related Information
Senior Fellowship Program