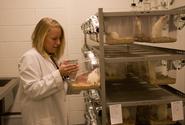 From an early age, Leeann Brigham has had an astute fascination for and a deep interest in science. As a child, she recalls playing with mini-microscopes and rock collections and having "an obsession with" the Nancy Drew mystery book series. Like the mystery books she so deeply loved as a child, today, Leeann views neuroscience, her major here at Hamilton, as "the ultimate mystery – asking questions like 'why do we behave the way we do' and 'how we have become the individuals that we are.'" To Leeann, neuroscience gives her "the perfect opportunity to explore those answers."
After graduating as valedictorian from Troy High School, Leeann knew that she wanted to follow a pre-med track in college. When she first came to Hamilton she had aspirations of majoring in biology and English; neuroscience was not even on her radar. After being locked out of a comparative literature class as a freshman, Leeann enrolled in Professor George Gescheider's Brain and Behavior class, "absolutely loved it," and decided then and there that she wanted to continue her academic career at Hamilton as a neuroscience major, with Professor Douglas Weldon as her advisor.
Leeann has continued to be "utterly fascinated" by the classes offered in Hamilton's Neuroscience Department. In her early conversations with Professor Weldon as an academic advisor, Leeann began to investigate the possibility of a Senior Fellowship in Neuroscience. While exploring her ideas for her senior thesis, she had mentioned to Professor Weldon that she was interested in applying for the program and together they discussed how to expand a senior thesis into a fellowship proposal.
Each spring the Dean of the Faculty designates up to seven academically outstanding members of the junior class as Senior Fellows based on GPA and overall breadth of courses taken at the college. Students in the junior year may become candidates by submitting a proposal for a senior year of independent study. Senior Fellows are exempt from taking a normal course load in the conventional curriculum, and they need not complete concentration requirements; they may take such courses as are appropriate to their fellowship projects and their educational goals. These students are also exempt from completing their assigned major and graduate as a Senior Fellow, rather than a major in a specific department. A written thesis is required at the close of the fellowship year, along with a public lecture to the College community. Evaluation is made by the advisors and an examination committee.
While taking only one class per semester as a Senior Fellow, Leeann has actually found herself missing a full course load and looks forward to the one class she has. It is this hard-working, determined and genuinely heart-felt work ethic that has allowed Leeann to achieve lofty success throughout her entire career at Hamilton. She has been a Writing Center Tutor since her sophomore year, is a TA for the Psychology Department, the president of Psi Chi, the National Psychology Honors Society, is an active member of the Women's Rugby team. Leeann has been awarded numerous recognitions at Convocation, including the Charles A. Dana Prize Scholarship for academic achievement, character, and leadership, Benjamin Walworth Arnold Prize Scholarship for best academic record, Phi Beta Kappa Book Prize for outstanding academic performance, and the Schambach Scholarship for academic merit and strong involvement on school/community activities, to name a few.
Soon to be added to her list of accomplishments is the potential publication of her Senior Fellowship work with Professor Weldon. Her research focuses on an animal model of schizophrenia, a prevalent disease that affects a large percentage of our population and poses various economic burdens. This unfortunate disease has proven relatively challenging to study in human subjects, due to the fact that the only individuals studied have already been diagnosed with the disease. Leeann's research is focused on trying to understand more about how the animal model of schizophrenia works and distinguishing if the behavioral deficits in animals are a result of the cell damage, induced by the drug MK-801, or is purely a by-product of the pharmacological damage.
Her project involves three groups of rats, one of the groups is injected with MK-801, a drug that does not give the rats schizophrenia, but induces behaviors that resemble those of schizophrenic humans and causes structural damage in the brain, also parallel to human schizophrenics. The second group of rats is injected with a combination of fish oil and the MK-801 drug, and the third group is a control group injected with saline. Fish oil is an anti-oxidant that makes cells more resilient to the effects of the reactive oxygen species which produce the behavioral deficits of schizophrenia. Leeann hopes to find that the fish oil will attenuate the symptoms that are caused by the MK-801, suggesting that oxidative stress is involved in the development of the behavioral deficits and plays a role in the onset of schizophrenia in humans. Currently, human patients diagnosed with schizophrenia exhibit this oxidative stress, but researchers have not been able to isolate it as the cause of onset of the schizophrenia, or if it is a byproduct of the disease itself.
Although only a quarter of the way through her study, Leeann has already achieved significant results, illustrating that the MK-801 produces behavioral deficits and that the fish oil in fact does prevent the deficits. She plans on continuing her research through next semester with follow-up tests to isolate the exact ingredient within the fish oil that is responsible for its preventative measure.
Leeann has applied for a Fulbright grant to continue neuroscience research after graduation from Hamilton. Previously, she has conducted research on stroke at UCLA, Alzheimer's disease at the Wadsworth Center, New York State Department of Health, and hopes to research Parkinson's at the Karolinksa Institutet in Sweden as a Fulbright. Eventually, Leeann hopes to pursue an M.D. and Ph.D. in neuroscience. With her strong interest in neural disease, Leeann views neural research as the key to the future, "there is still so much we don't know about the brain, which is what makes neuroscience such an exciting field," she said, "disease is such a good way to look at that. By studying why something goes wrong in the brain, you are able to isolate that cause and explore how things were supposed to be working."
Leeann's findings will be presented at the end of second semester, along with those of the other four Hamilton College Senior Fellows.
-- by Stacey Klein '09
Related Information
Senior Fellowship Program