Seniors Greg Hartt and Magdalena Wierzbicka Awarded Watson Fellowships
---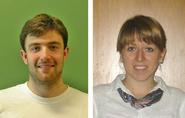 Two Hamilton College seniors have been awarded prestigious Thomas J. Watson Fellowships for 2008-2009. Greg Hartt of Troy, N.Y., and Magda Wierzbicka of Warsaw, Poland, were notified that their project proposals were among 50 national winners of the Fellowships. This year, 175 finalists competed on the national level, after their institutions nominated them in the autumn. Each fellow receives $25,000 for a year of travel and exploration.

Hartt's project is titled "Looking to the Horizon: African Views of Climate Change and the Environment." He hopes to gain an understanding of environmentalism in Africa, an area of the world that he feels will play a significant role in future atmospheric research and climate change policy. Hartt will investigate how citizens of South Africa, Madagascar, Tanzania, Cameroon, and Senegal affect climate change, how they perceive climate change and their role in this environmental process, and what scientists and governments are doing to address the problems. He hopes to understand how the environmental changes influence the agricultural factors such as growing cycles and resource availability, as well as how they influence everyday life in rural areas.

Wierzbicka's project is titled "In the World of Words, Exploring Creole Culture through an Oral Lens." She proposes to investigate this multilingual culture within far flung communities around the world. She will look at Creole languages as the primary vehicle of culture transmission. Creoles, the oral means of communication among peoples of different cultural backgrounds, developed during the colonial period. Although recognized as distinct languages, today they tend to be perceived as inferior to such officially recognized languages as French and English. By engaging in cultural and social events, she will examine the factors that shape the oral culture of Creoles in the modern world. Wierzbicka will visit four territories where French Creoles are commonly spoken and where Creole culture is often overshadowed by modern influences: Guadeloupe, French Guiana, Seychelles, and New Caledonia.

Hartt, a chemistry and French major, has spent four summers at Hamilton conducting computational research of hydrated carbonyl sulfide complexes with Winslow Professor of Chemistry George Shields and co-director of the Center for Molecular Design Karl Kirschner. Hartt, along with Tim Evans '05, Kirschner and Shields, published an article titled "In Search of CS2(H2O)n=1-4 Clusters" in the April 21, 2007 issue of Journal of Chemical Physics, the preeminent journal for theoretical and experimental advances in chemical physics.

Hartt has also been a co-author on papers published in Health Physics Society (2006) and Journal of Radioanalytical and Nuclear Chemistry (2005).

In addition to his research at Hamilton, Hartt also studied physical chemistry at the University of Paris VI as part of Hamilton's program in France. He spent the summer of 2003 working at RPI on magnetic resonance, and in 2002 was an intern at the Wadsworth Center in Albany, where he did research in environmental health chemistry.

Hartt is the recipient of a William Bristol scholarship at Hamilton. He was a member of the men's varsity track & field team in 2005 and 2006 and was named to the Liberty league men's Track and Field All-Academic Team in spring 2006. Hartt is currently a resident advisor and a member of Tau Kappa Epsilon fraternity, where he is currently candidate education coordinator and was formerly academic chair. He also served as a peer tutor in French.

Wierzbicka, a French and Chinese major is a Dean's List student who was elected to Hamilton's Phi Beta Kappa chapter in fall 2007. She studied in France through Hamilton's program in 2006-07 and earned a Diplôme approfondi de langue française (DALF), C1 certification of competency in the French language, from the French Ministry of Education. She also studied in Beijing through Hamilton's Associated Colleges in China program in springs-summer 2006, and while there taught elementary English as a teaching assistant at Dazu Elementary School in Luguhu.

At Hamilton Wierzbicka is the recipient of the Winslow Prize in Romance Languages, David B. Parker Memorial Scholarship, Hamilton College Class of 1979 Travel Award for linguistics research and Prize for Excellence in Chinese Language and Literature.
She is a teaching assistant tin the French department, a peer tutor for French and a member of the Hamilton College choir. Wierzbicka is employed as a student assistant in the Registrar's office. She was also selected as a member of Hamilton Alumni Leadership training to promote and facilitate alumni engagement with Hamilton College.

The Watson Fellowship Program was created in 1968 by the children of Thomas J. Watson, Sr., the founder of IBM, and his wife, Jeannette K. Watson, to honor their parents' long-standing interest in education and world affairs. The program identifies prospective leaders and allows them to develop their independence and to become world citizens. Watson Fellows each receive $25,000 for their year of travel and study. The year of travel provides Fellows an unusual opportunity to take stock of themselves, test their aspirations and abilities, pursue their own in-depth study and develop a more informed sense of international concern.