Shannon Fitzsimons '05 Returns to Consult on Theatre Production
---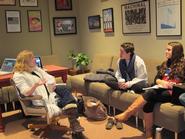 Shannon Fitzsimons '05 returned to Hamilton this week as guest dramaturg for the Theatre Department's production of A Doll's House by Henrik Ibsen, written in 1879. The production will be staged April 15-17 and 21-24. Fitzsimons, currently a student in the Ph.D. program in theatre and drama at Northwestern University, majored in theatre and creative writing at Hamilton.

During her four-day residency, Fitzsimons provided the cast of A Doll's House with a wealth of details concerning the cultural, social and theatrical history of the play and the time period in which it was written.

Since this production of the play takes place in 1964, Fitzsimons also helped the cast to better understand the history and culture of that time, and made necessary tweaks to the script. Fitzsimons' visit was funded by the Dan Dietrich Foundation, and the production is directed by Craig Latrell, professor of theatre.