Shea Crockett '15 and Rachael Wilkin '16 Intern in Scotland
---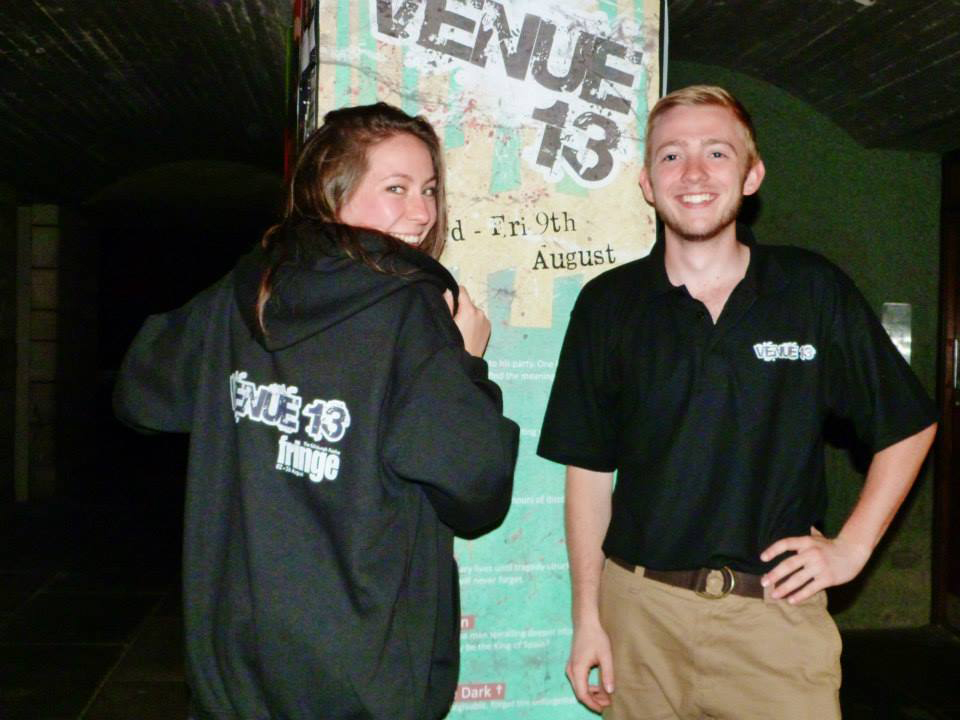 Through the Royal Welsh College of Music and Drama, Shea Crockett '15 and Rachael Wilkin '16 spent the summer in Edinburgh, Scotland, working as members of the college's Venue 13 staff at the Fringe theatre festival.
Crockett and Wilkin were members of groups that each ran six shows at the festival. One group worked in the morning with the other taking over in the late afternoon.
The three-week festival opened Aug. 2, but preparation began two weeks before in Cardiff. There, Crockett and Wilkin, along with their groups, constructed mock venues inside a theatre at the Royal Welsh College campus. They constructed the truss, rigged and focused lights, built the stage and seating bank, ran cable for sound, lights and AV, and ran tech for a few shows. With this preparation, the groups created kits to be used during load in at the festival.
At the end of the two weeks, the groups deconstructed the mock venues and loaded everything into trucks and vans for transport to Edinburgh. Crockett and Wilkin's daily work during the festival involved running the lights, sound and AV for shows and setting up the sets during show changeovers. They also worked the box office, selling tickets and managing income from sales.
"The majority of this was new for both of us, so we've learned a lot throughout the process!" Wilkin said.
According to its website, Venue 13 is "an initiative run by the Royal Welsh College of Music and Drama, and acts as professional training for [its] stage managers...The Venue also stages several performances by emerging artists from the College, including the College's own Richard Burton Company."
Crockett is a graduate of Plattsburgh Senior High School (Plattsburgh, N.Y.) and Wilkin is a graduate of The Fieldston School (Bronx, N.Y.).