Sigma Xi Elects 25 New Members
---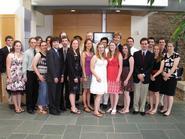 The Hamilton College chapter of Sigma Xi, the scientific research society, elected 22 students to associate membership and three faculty to full membership on May 10. Two alumni who were elected to associate membership at the time of their commencement were promoted to full membership.

Students elected from the Class of 2010 are Stephanie Anglin, Kathryn Arpino, William Bauder, Andrew Beyler, Andrew Boddorff, Suzannah Chatlos, Samuel HaEun Cho, Sam Colalillo, Gail Corneau, Jane Cowles, Laura DeFrank, Katherine Hails, Valerie Hanson, Laura Jackelen, Phillip Milner, Thomas Morrell, Thomas Nevers, Heather Otis, Clifford Robbins, Anthony Sali, Alexander Shoulson and Julianne Tylko. Faculty members elected were Serena Butcher, Joshua Ruppel and Adam Van Wynsberghe. Matthew Kirby '93 and Frank Femia '97 were promoted to full membership.

The initiation banquet on May 21 included family members who were on campus for Commencement weekend.

Sigma Xi facilitates a variety of activities that support scientific research. Best known are the award-winning interdisciplinary journal, American Scientist, and the grants-in-aid of research program that has awarded funds to graduate and undergraduate students in a highly competitive pool of applications for more than 80 years.