Sigma Xi Initiates 27 New Associate Members
---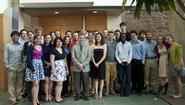 The Hamilton College Chapter of Sigma Xi, the scientific research society, initiated 27 members of the Class of 2011 to associate membership at the annual banquet in the Science Center Atrium on May 20. Family members in attendance heard a program of brief observations by mentors about the students and their research.
Students elected are: Taylor Adams, Deborah Barany, Patrick Barnes, Matthew Baxter, Clair Cassiello, Will Eagan, Laurel Emurian, Kevin Graepel, Rebecca Green, Madeleine Gunter, Erica Kowsz, Edward Amos Lamere, Annie Lee, Laura Leonard, Jonathan Pinney, Andrew Portuguese, Lydia Rono, Jennifer Santoro, Nathan Schneck, Anna Scott, Leighanne Sherrow, Evan Taddeo, Jack Trieu, William Wieczorek, Keith Willner, Ke Xu and Carl Zipper.
Sigma Xi facilitates a variety of activities that support scientific research. Best known are the award-winning interdisciplinary journal, American Scientist, and the Grants-in-Aid of Research program that has awarded funds to graduate and undergraduate students in a highly competitive pool of applications for 90 years.