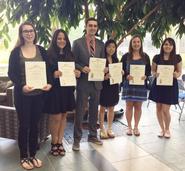 The Hamilton College Chapter of Sigma Xi, the scientific research society, initiated six members of the Class of 2015 to associate membership on May 22 before the annual dinner in Taylor Science Center Atrium. Family members in attendance enjoyed a program of observations by mentors about the students, their research and student plans to continue in research.
Students initiated were: Nikole Bonacorsi, Deanna Cho, Maxwell Lopez, Christiana Westlin, Kassandra Zaila, and Hannah Zucker.
Sigma Xi is an international honor society of science and engineering professionals that facilitates a variety of activities that support scientific research. Hamilton College was one of the first wholly undergraduate colleges to be granted a chapter when its club earned an upgrade to chapter status in 1965.