Simpson Leads Audience on Planetary Exploration
---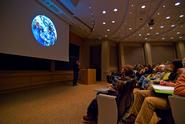 "In the early '70s, we had a deal where you could leave for January, as long as you convinced Dean Winton Tolles that it had some academic value," explained Josh Simpson, a 1972 Hamilton graduate, to the audience at the Science Center Kennedy Auditorium. And so Simpson managed to do just that – and Tolles allowed him, as Simpson had requested, to practice glass blowing in Vermont for the duration of that month. Simpson, who is now a professional glass blower, remarked "It was the best thing that had ever happened to me."
His accommodations in Vermont were less than optimal – he and another student had to build a furnace out of leftover bricks at the site – but Simpson loved the experience anyway. "Glass is an alchemic blend of sand and metal oxides," Simpson explained, "and when it's hot, glass is alive. It possesses an inner light, a transcendental radiant heat." In fact, he loved glass blowing so much that he dropped out of school (he was then a senior with only one more required course credit to fulfill) in order to continue honing his skill. He purchased 50 acres of land in Vermont for only $22 a month, bought a cloth, and sewed together a teepee outside – his home for the next year. "It was an incredibly low-tech dwelling," Simpson admits. Though he rented out so many acres, his work space was only 12 feet by 12 feet by 12 feet.
Eventually he came back to Hamilton, having felt that he ought to have a degree to fall back on, and the administration waived the tuition for the one course he needed, since he didn't have any money. However, he was still required to pay room and board. Simpson countered that problem by setting up his teepee in the forest behind Kirkland; he would ski to class every morning. "I played a game of cat and mouse with the forester," Simpson explained. He only got caught the day before he graduated with a bachelor's in psychology – a degree that he never needed to utilize. He has been glass blowing for almost 40 years now and showed the audience slides of his many works.
It was one day, many years ago, outside his home in western Massachusetts that Simpson found old handmade marbles, still pristine and unperturbed – an act that made him think about the longevity of glass. And so he came up with an idea. Citing astronaut Jim Lovell, who once said during a mission in space that he could "cover the earth with his thumb," Simpson started making "planets," glass globes that colorfully mimic that geographic features and the biological life of planet earth. These works of art "transcend culture, language, time and distance," Simpson explained, "and I was going to start hiding these enigmatic spheres for archeologists to find some day."
That's how the Infinity Project was born. Simpson has since hidden hundreds, even thousands, of glass planets all around the world, including at the base camp of Mt. Everest, on the Great Wall, in the moats of castles, at the base of underwater volcanic vents, at the magnetic North Pole, and even at the White House. Of course, he doesn't personally go to all of the places – but he has friends and acquaintances that do. His wife, an astronaut, even took one of them into space.
When asked whether the rumors were true that he had hidden glass planets on the Hamilton campus, Simpson smiled and said, "I don't know. Maybe."
For more information and to learn about how you can contribute to the Infinity Project, visit
www.joshsimpson.com
.
For an interview with Josh Simpson produced by Mohawk Valley Living, go to
http://www.youtube.com/mvliving#p/u/1/SZvwHLTL-sw
This story appeared in the February issue of eNews.