Five Win Public Speaking Prizes
---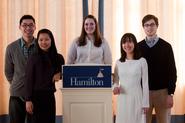 Hamilton's annual Public Speaking competition took place on Saturday, March 6 in the Chapel. Five students won prizes in three prize competitions: The McKinney Prize, The Clark Prize, and The Warren Wright Prize.

Winners of the McKinney Prizes were Trang Nguyen '13, whose speech was titled "You're Beautiful"; Xiaohan Du '12, whose topic was "A Call for the Revival of Humanism in Liberal Arts Education: When the Diversity of Ideas Meets the Idea of Diversity"; Ian Doran '11, who spoke on "What's One More Test? Encouraging STI Testing at Hamilton College"; and Yan Kit Pang '10, "Dance Education for Youth at Risk." McKinney speeches must be persuasive in nature, with arguments supported by appropriate and meaningful factual information. A participant's chosen topic should be socially relevant and of interest to the extended Hamilton community.

Yan Kit Pang was also the recipient of the Clark Prize. His speech was titled "Facebook: Enough Already!" in response to this year's topic, "Facebook: How Much Information is too Much?"

Amanda Bowman '10 was awarded the Warren E. Wright Prize for her speech titled "Iowa: The Gay Mecca?" In the Wright competition, the speech must be an informative (rather than persuasive) speech on a socially significant issue of current interest. That is, each contestant's speech must focus on an issue that the public presently confronts and deal with that issue in a thoughtful manner.