Slacktivism is the New Activism
---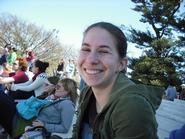 The Facebook group titled "Stand with Youth, Call for Obama's Leadership toward Bold Climate Action" currently has 22,112 members. But how many of them called the White House in preparation for the UN Climate Change Conference in Copenhagen? Activists who give their support but contribute little else are called slacktivists and are increasingly common with the growth of the Internet. Emily Gerston '11, who received a Levitt grant, is learning how the Internet has affected political participation.

Although many people are unconsciously familiar with the phenomenon of slacktivism, little has been written about it. "Because [slacktivism] is a fairly new phenomenon, there isn't a lot of conclusive research on the subject yet," Gerston said. Coined in 2002, "slacktivism" refers to a person's support of a particular issue often with little more effect than making the person feel good and often not requiring the person to contribute much effort. Sometimes raising awareness of an issue can constitute real activism, other times not depending on the individual issue.

Although most writers have used the term in a pejorative manner, Gerston doesn't think slacktivism is all bad. "It's not always possible to be an activist in the traditional way anymore," she said. "We're all workaholics, we have no time to volunteer for the campaign of a local politician for multiple hours per week. So instead, good intentions lead to signups for online newsletters, etc." Slacktivism is inexorably tied to the information age, to how we get information and how we use it in our daily lives. Are rallies more popular because organizers can target interested populations on social networking sites? Is awareness of international issues increased because of Twitter? And does awareness necessarily constitute a sufficient amount of participation to be called activism?

To these questions, Gerston tentatively answers "yes." There's no denying that the Internet has made the world a smaller place, even politically. During protests in Iran last year, people were only able to notify the world of the violence that was taking place through Twitter, keeping the world updated in almost real time. "Even if you don't fly out there, you can be informed," Gerston said.

But more than anything, slacktivism reflects not only a technological but a generational shift; the way this generation participates in the political process is not the way their parents did in the 1960s or 70s. With help from her advisor, Associate Professor of Sociology Stephen Ellingson, Gerston is busy developing a survey that will compare how people of different generations think of political action and activism. She will survey as wide a population as possible, the most significant factors being the participants' ages and varying levels of participation. She will then conduct more in-depth interviews with some of the people she surveyed to discuss the issues at hand.

To make her survey, Gerston referred to the Social Capital Community Benchmark Survey (SCCBS), a nationally-distributed survey that was designed to determine communities' value of social capital. What she learned from the SCCBS was that some activities that do not seem overtly political actually have political implications. "Volunteering at a homeless shelter, for example, says something about a person's local connection," Gerston said. "He or she is ingrained in the local community, which says something about politics in broader, more abstract way." Participating in Habitat for Humanity or receiving newsletters from MoveOn.org also have larger political implications than the actions themselves imply, which is calling into question Gerston's working definition of "activism" in the first place. In a world where the definition of activist is changing, how can you tell who is a slacktivist?

Gerston graduated from Homestead High School in Cupertino, Calif.