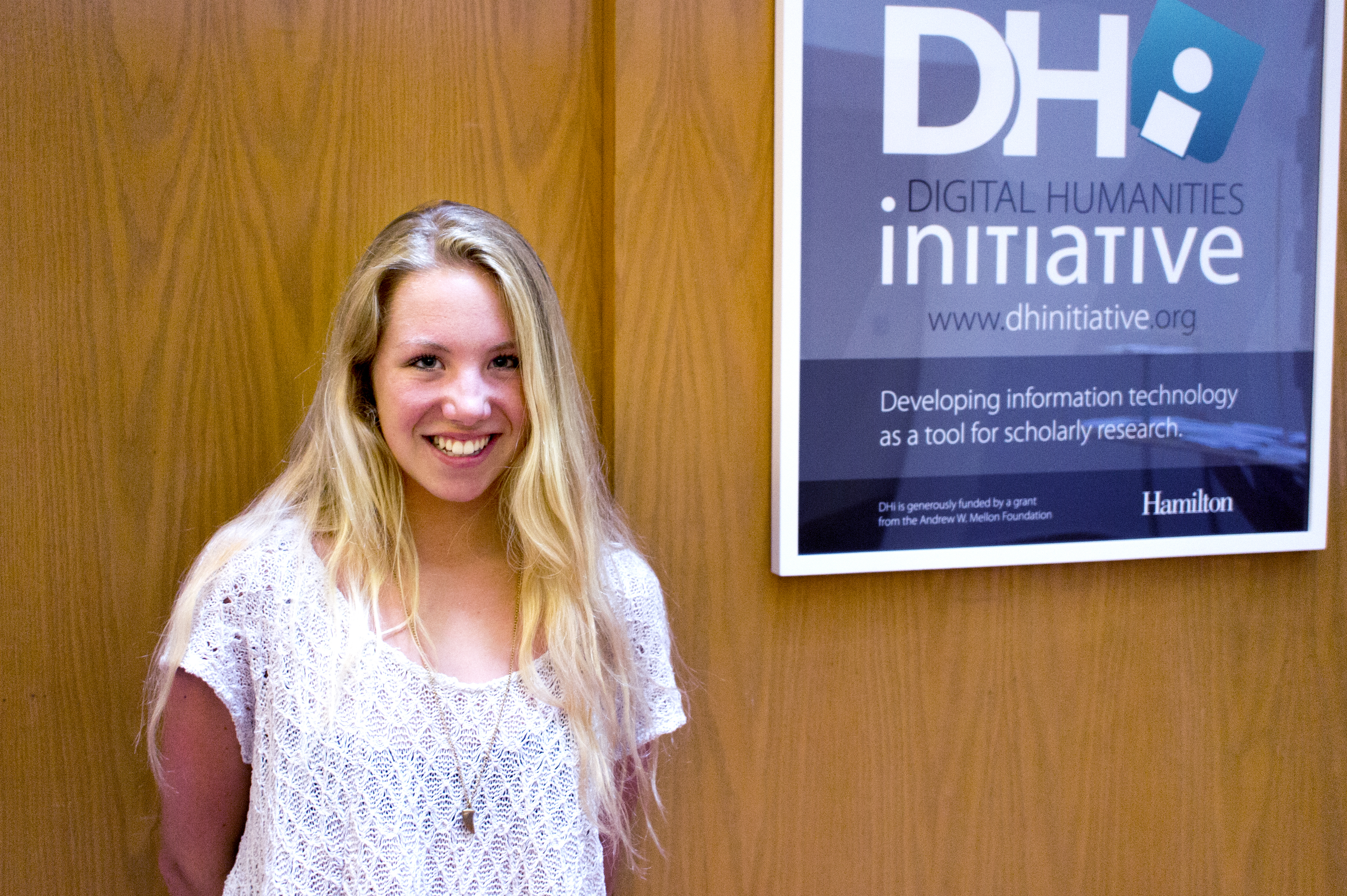 Lainie Smith '16, through the Digital Humanities Initiative (DHi), is examining meditation in her summer research project titled "Investigating the Growth and Adaptations of the Practice of Meditation" with Assistant Professor of Religious Studies Abhishek Amar.
Smith plans to research meditation and the changes it has undergone since its inception. She will primarily focus on its transformation from a religious practice to the universalized, more secular activity that has been popularized in the United States. As Smith noted, originally "meditation served as a means of honoring and communicating with higher beings and investigating one's own spiritual desires." But the modern practice of meditation often acts as "a form of exercise and stress relief that can be applied to a wide range of audiences without a specific affiliation."
Not only does she hope to examine when and why this transformation took place, Smith is curious to see how those who still engage in traditional, religiously oriented meditation view the West's alteration and adoption of meditation: "I am interested in discovering what this commercialized form of meditation means to its more authentic Indian practitioners. Moreover, how is meditation viewed differently by an American practitioner and a Buddhist or Hindu Indian practitioner? Do the religious practitioners hold any animosity over the adaptations of the practice by other cultures?"
But above all, Smith is interested in how meditation has been marketed in order to appeal to a wider audience. She remarked, "I find it fascinating that essentially anything can be marketed under the right set of advertising. With meditation, it has completely been stripped of its religious affiliation to make it a marketable source of income (with retreat centers/books/instructive DVDs). And now it even permeates cultural boundaries."
Smith hopes to work her way into the business world after graduating, so this project serves as an in-depth case study of the methods and maneuvers of the marketing industry.
Smith's research will culminate in the creation of an interactive, web-based timeline that maps the growth in the practice of meditation. Various points along the timeline will be highlighted to mark significant changes or events in meditation's history. Viewers would be able to click on these points in order to read a more detailed description of the event and its implications.
In addition to creating this timeline, Smith stated, "I hope to go to India next summer to collect firsthand accounts from people who work at meditation retreat centers. I'd like to speak to the directors and the individuals who are attending to see why they are there and how much they actually know about the ancient practice and its religious foundation."
During this excursion, Smith also hopes to discover whether there is any tension surrounding the major changes the practice has undergone. However, she concluded, "It would be neat to find that Hindu and Buddhist practitioners are actually proud of the spread of the practice because it's bringing more attention to the religion."
Lainie Smith '16 is a graduate of Saucon Valley High School, Pa.