Smythe Joins Research Team in Panama
---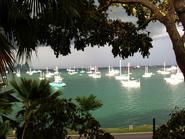 In December, Visiting Assistant Professor of Biology Ashleigh Smythe joined nine other scientists for two weeks of field research on the Pacific coast of Panama. The team was based at the Smithsonian Tropical Research Institute's marine research laboratory on Naos Island in Panama Bay on the outskirts of Panama City and near the entrance to the Panama Canal. Smythe joined researchers from the United States, Cuba, Brazil, Spain, Mexico, Belgium, Italy and Russia for a biodiversity study of meiofauna, microscopic animals living in marine sediments.
Meiofauna include some entire phyla, such as kinorhynchs, as well as major groups of other phyla, including flatworms, annelids and Smythe's area of expertise, nematodes. The team collected at sites on the Panamanian coast and from the Las Perlas Archipelago, about 30 miles offshore. Specimens were identified using light microscopes in the laboratory and were also preserved for future DNA analysis to detect cryptic species not distinguishable by morphology alone.
The trip was the third of three funded by the Smithsonian and followed others on the Caribbean coasts of Panama and Belize. The goal of the project is to document a wide diversity of meiofauna and to address questions of spatial patterning and biogeography of this often overlooked marine fauna.