Snyder and Adams '11 Publish Book Chapter
---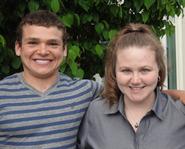 Assistant Professor of Chemistry Nicole L. Snyder and Taylor P. Adams '11 recently published a book chapter on the Dimroth reaction in Jie Jack Li's Named Organic Reaction series book Named Reactions in Heterocyclic Chemistry II. Their chapter focuses on the Dimroth rearrangement, an isomerization reaction whereby atoms on a heterocyclic ring are translocated.
The reaction can be catalyzed by a variety of acids and bases, with or without the presence of heat or light. Several factors may influence the rearrangement, including the number and types of heteroatoms in the ring, the number and types of substituents on the ring and the kinetic and thermodynamic stabilities of the reactants and translocation products.
The Dimroth rearrangement has been used to generate a number chemically interesting compounds as well as pharmaceutical relevant compounds including nucleoside analogs, vitamin B12 analogs, and most notably, the anticancer drugs Iressa and Tarceva which have been shown to inhibit the epidermal growth factor receptor (EGFR) responsible for mediating cell division, motility, adhesion and apoptosis.