Snyder and Students Present Research at American Chemical Society Meeting
---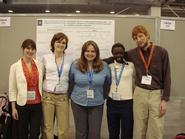 Assistant Professor of Chemistry Nicole L. Snyder and Hamilton students Ben Van Arnam '09, Katie Alser '09, Gail Corneau '10, and Lydia Rono '11 presented their research during the 237th American Chemical Society National Meeting and Exposition held March 22 through March 26 in Salt Lake City.

Van Arnam's poster titled "The synthesis and characterization of 1,2,3-lactosyl triazoles and 1,2,3,5-lactosyl tetrazoles as potential inhibitors of galectin-1," focused on the preparation of several novel carbohydrate-based molecules that can be used to study galectin-1, a protein implicated in tumor transformation and HIV infectivity.

Alser, Corneau, and Rono presented a separate poster on their research titled "Understanding the role of the vancomycin glycan in binding glycosyltransferases: The design and synthesis of two novel glycan derivatives of vancomycin with the potential for combating antibiotic resistance." Their research focused on the preparation of a new derivative of vancomycin that can be used to treat vancomycin resistant strains of Staphylococcus aureus (VRSA).Approximately 10,000 chemists from all over the world attended the national meeting.