Snyder Awarded Fellowships for Carbohydrate Research
---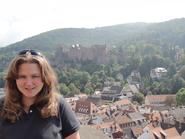 Assistant Professor of Chemistry Nicole L. Snyder has received fellowships from the Max Planck Society and Deutscher Akademisher Austausch Dienst (DAAD) to support her collaborations this summer with world renowned carbohydrate chemist Peter H. Seeberger at the Max Planck Institute (MPI) for Colloids and Interfaces, Department of Biomolecular Systems in Berlin, Germany. Snyder's work at the MPI focuses on the synthesis and biological evaluation of disease associated glycans (polymers of carbohydrates found on cell surfaces) with the goal of developing new vaccines for the treatment of cancer and infectious diseases.
Snyder began collaborating with the Seeberger laboratory in June 2010 and is currently spending her sabbatical year in Berlin working on several projects she initiated. The projects include the automated synthesis of an N-linked glycan expressed in high concentrations on glioblastoma cells associated with an aggressive primary brain tumor, and the solution synthesis of pneumococcal serotype 31, one of several glycans responsible for invasive pneumococcal disease.
Taylor Adams '11 and Kevin Graepel '11 assisted Snyder at the MPI during the summer of 2010, and Connor W. Brown '12, Alexander D. Thompson '13 and Megan Schlosser '13 are working with Snyder in Berlin this summer.
In addition to the support from the Max Planck Society, Snyder has also been nominated by the Freie Universität for a Mercator Fellowship.