Social Entrepreneurs Urge Students to Connect Their Interests With Society's Issues
---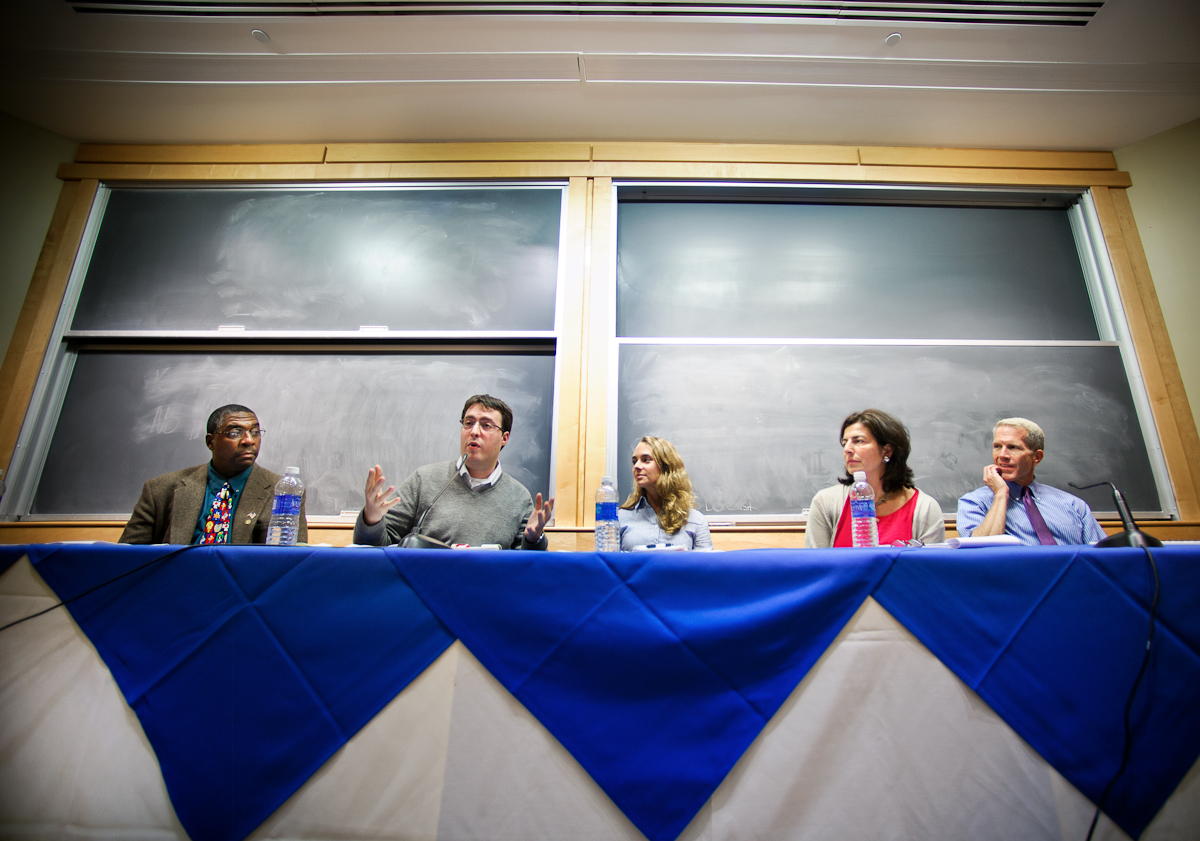 On Oct. 4, members of the Hamilton community gathered to learn about social innovation and careers in social entrepreneurship through a panel discussion sponsored by the Levitt Center, the Career Center, and the COOP.
The panel, moderated by Julio Videras, the director of the Arthur Levitt Public Affairs Center and associate professor of economics, consisted of Hamilton alumni and local leaders who are social entrepreneurs. Steve Culbertson '79 is president and CEO of Youth Service America; Alon Hillel-Tuch '07 is the co-founder and CFO of RocketHub (a crowd-funding organization), Haley Reimbold '06 co-founded UnderGround Café in Utica while a student at Hamilton, and now works for the Vera Institute of Justice; Nancy Roob '87 is president of the Edna McConnell Clark Foundation, and Mark Montgomery is the founder of The Montgomery Experience (a camp in Bridgewater, N.Y., for children with cancer).
After introducing themselves and their work, the panelists began with advice for students hoping to become social entrepreneurs. Each agreed that following one's passion is the first step, but Culbertson expanded upon this idea by challenging the students to connect the dots between one's "spark" and today's key issues in society. Innovation is about using your skills to make improvements, rather than new inventions, he contended.
Roob followed up on the concept of innovation, saying that there are already organizations whose methods are proven to work. Rather than trying to reinvent, she argued, we need to "check our egos at the door," go after substantive areas we are passionate about, and invest in existing solutions that work. Hillel-Tuch offered some words of encouragement to future social entrepreneurs, advising the students not to be afraid of failure. "Be confident" he said, because "you learn by trying, and keep in mind that inexperience can lead to new perspectives."
There are certain skills necessary for successful social innovation. Listening and collaborating with others are of the most important, according to the panelists. "Surround yourself with people who are moving forward," said Montgomery, "because comfort leads to complacency."
"Empathy is necessary," added Roob, because one needs to form relationships in order to collaborate successfully. Culbertson maintained that the ability to express oneself, both verbally and through writing, are also fundamental in any job.
Although it is an exciting and fulfilling line of work, social entrepreneurship also contains many obstacles and challenges to overcome. Roob noted that on a practical level, social entrepreneurs always need to be thinking about their funding. Hillel-Tuch discussed frustrations with working with the government, and Culbertson pointed out that adults can be obstacles to radical change. Social entrepreneurs need to find the balance between staying on the cutting edge, but not getting too close to the bleeding edge, he said. Reimbold told the audience that it is important to know when it is the right time to let go, step back, and let someone else take direction.
At the end of the discussion the took questions from the audience. In response to a question about how one disrupts the status quo of society to create change, Culbertson advised to look back to history and learn from the past. Most movements involved a fight, he said, so you need to push people and give them a reason to move. Montgomery had a different perspective, however. He argued that everything is situational, and that many time people don't change things because they don't have the same educational or socio-economic opportunities.
Hillel-Tuch likened social change to dynamical systems theory: events are non-linear, he said, and some things take more time than others to change. Other students wanted to know about competition, both within the non-profit sector and against government programs. Roob pointed out that an increasing interesting aspect of competition in the non-profit sector is that people are now thinking in terms of investment, as opposed to the historic mentality that it is charity-based.
Reimbold contended that social entrepreneurs need to work within the system in order to transform the system, and Culbertson added that one needs to remain innovative over time and keep up with the current issues.
The panel concluded with advice for students who want to get their foot in the door of the non-profit world. The panelists emphasized the importance of figuring out one's passion, and then pursuing internships and career-related experiences that are relevant to that passion. Pursuing passions is more important than attempting to map out one's career, the panelists agreed. Professional development is an ongoing dialogue, said Montgomery, and creating relationships with others is always valuable.