Softball swept by Utica
---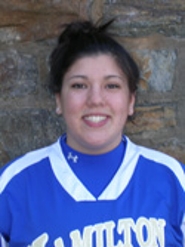 Utica College swept a non-conference doubleheader against Hamilton College at Utica's Greenman Field on April 7.

The Pioneers (10-8 overall) won the first game 8-3, and prevailed 6-3 in Game 2. Utica never trailed in either game.

Hamilton (1-13) is scheduled to make up a New England Small College Athletic Conference West Division game at Amherst College on Sunday, April 10. The game was originally scheduled for April 1.

In the opener, the Pioneers led 7-0 before the Continentals scored all three of their runs in the top of the sixth inning. The big hit in the inning was a two-run double by Melissa Kaknis '13. Leigh Sherrow '11 drove in Kaknis with a single.

Lisa Faraci '13 doubled twice, and Ashley Perritt '14 and Jenn Rougeux '14 both singled. Starting pitcher Amy Appel '13 allowed six runs on eight hits in 3.1 innings and took the loss.

In the second game, Utica jumped out to a 5-0 advantage after two innings. Hamilton scored two runs in the top of the third and added one more in the seventh. Sherrow drove in the first run with a sacrifice fly. Liz Reid '11 hit run-scoring singles in the third and seventh innings. The Continentals left the bases loaded in the seventh.

Reid tied a career high with three hits. She also had three hits at Amherst on April 3. Kaknis chipped in two singles, and Faraci singled and was hit by a pitch twice. Rougeux and Appel added one hit apiece.

Summer Bottini '14 started in the circle and took the loss. Bottini allowed five runs on seven hits in two innings. Appel tossed three hitless innings of relief, and Chelsea Merritt '14 retired the side in order in the sixth.