Sophomores Get a JumpStart on Career Planning
---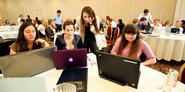 The second annual Sophomore JumpStart, created by Hamilton's Maurice Horowitch Career Center, took place on Sept. 8 at the Radisson Hotel in Utica. Approximately 50 sophomores spent their Saturday morning listening to various speakers, learning resume building tips and taking assessments to gauge their potential career interests.
Alumna Julia Wilber '11 delivered the keynote speech where she explained "the nature of passion." After asking the sophomores for their definitions of passion, Wilber emphasized the importance of finding and following one's passion. As a Thomas J. Watson fellow, Wilber traveled to Rajasthan, India, where she studied communities that produced free-trade clothing. A theme that resonated with the room was her acceptance of the unexpected. Even in regard to career development and orientation, Wilber said people should give themselves "time to adjust to the unexpected."
After the keynote, the sophomores logged onto a skills assessment database called FOCUS that projected possible future occupations. Some students agreed wholeheartedly with their pairings, while others did not. For instance, a future Public Policy major received the suggestion of "art teacher" as a career possibility. Mary Evans '82, the executive director of the Career Center, explained that "The jobs do not necessarily predict the future" and were only suggestions.
Next on the agenda, Professor of Philosophy Todd Franklin and Professor of Government Rob Martin offered guidance to students regarding majors and job choices. Although there are some fields where a job is contingent on a particular major, the value of a liberal arts degree and the skills acquired during a student's time at Hamilton are more important than graduating with a certain major.
When asked how to make the most of their time at Hamilton by a student, Franklin said, "What you need to do is craft an educational experience," which includes establishing relationships with professors for future letters of recommendations.
"What you can do is decide what you want to do," said Martin as he highlighted the significance of GPAs. What matters, even if a person has an interdisciplinary major, is a person's ability to effectively explain his or her major and its relevance to the job at hand.
In addition to hearing faculty and members of the Career Center staff, such as Senior Associate Director of the Career Center David Bell, speak and explain the role of Career Related Experience, the sophomores heard the Career Center's 13 Peer Advisors recount their summer internship experiences and general advice. The internships ranged from working at Blue Cross and Blue Shield in Massachusetts to Elvis Duran and the Morning Show and even the Career Center itself. Bell also explained the competition regarding internships and stressed the importance of resilience.
The Sophomore JumpStart concluded with a wrap-up of the day's topics and mention of HamiltonExplore, a "sophomore only" job shadowing opportunity that allows students to experience a day in the life of Hamilton parents and/or alumni. Before returning campus, students participated in a "mocktail mixer" with a chocolate fondue fountain and sophomores signed up for one-on-one sessions with Peer Advisors to discuss their resumes and cover letters.
If this Sophomore JumpStart is any indicator of the success that awaits the class of 2015, there is much more in store for Hamilton's future.