Sophomores Get Jump on Career Planning
---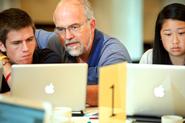 "Live your passion." It's a mantra Melissa Kong '08 has repeated many times—she even uses it as the title of her blog. On Sept. 3, Kong returned to share her passion with 45 members of the class of 2014 at the inaugural Sophomore JumpStart, a program focused on translating the dreams and passions of the sophomore class into concrete skills and ideas for the working world.
Kong is just one example of an alumna who has successfully made the transition into the workforce: she was able to translate her passion for psychology and writing into a career with Time Inc., a job that she received, in part, because of Hamilton's Maurice Horowitz Career Center, which organized the Sophomore JumpStart. Kong also spoke highly of Hamilton's alumni network, stating, "every single job I've had has been thanks to the Career Center or a Hamilton alumnus."
But why focus on sophomores? Mary Evans '82, the executive director of the Career Center, firmly believes that sophomore year is the best time to start investigating future careers. "We love sophomores," she said. Evans explained that the Career Center's focus is on providing the tools and the preparation for students so that they can take control of their own future after graduation. "We are here to ensure that you are in a position to do what you want to do, to pursue your own dreams and goals."
She explained that the Career Center has recently created several programs specifically to help sophomores start thinking about life after college. In addition to the JumpStart program, the Career Center has also begun HamiltonExplore, a job-shadowing program specifically for sophomores that takes place over winter break, and will be sponsoring a networking reception during Bicentennial Weekend, on Sept. 21.
In addition to Kong's keynote address, students participated in an interactive résumé workshop with members of the Career Center staff, (including several peer counselors), completed an interest inventory, and were able to interview an alumni panel about the transition from the classroom to the office. Michele Tagliaferri '98 was employed as a physician's assistant after graduating from Hamilton and attending LeMoyne College to receive her physician's assistant certification. It has been her "first [and] only job," after leaving the Hill, although she stressed that most graduates aren't as lucky as she was.
Sophomores also received guidance on the "Major/Career Connection." Leslie Bell, an associate director at the Career Center, stressed that all liberal arts degrees are equally useful. "Your major alone is not what qualifies you for a job," she said. Karen Brewer, the associate dean of students for academics as well as a chemistry professor, soothed the concern that liberal arts majors have difficulty finding jobs.
"There are a lot more options out there than there were years ago," she said. "If you like what you do, you will find what you're good at. Have a really fulfilled life. That's what Hamilton wants for you."
To end the day, several current Hamilton students imparted advice to the sophomores about the best way to secure an all-important internship. These students constituted an incredibly diverse range of internship experiences: Daniel Feinberg '12 interned with the Back Bay National Wildlife Refuge in Virginia Beach, Va., while Lauren Magaziner '12 completed an internship with The Writers House in New York, N.Y.
"February, March, and April are when the majority of internships go on-line," Magaziner said. She also cautioned students to apply to a variety of internships instead of just one. "I applied to about 50," she said.
Feinberg stressed that the Career Center was "an invaluable resource that every Hamilton student should take advantage of. Every time I apply for a new job, I go down to the Career Center and talk to the staff."
After the formal programming ended, students attended a "mocktail reception" where they were able to network with Career Center employees, alumni, and peer counselors. As the students interacted with Kong, Evans, and others, the word "passion" was used again and again. It soon became apparent that everyone there—from professional staff to students—had heeded Mary Evans's advice: "Find what you love. Do that, and only that."