Distinguished Speakers Planned for 2010-11
---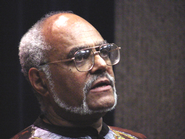 During the last academic year, Hamilton brought approximately 175 speakers to campus, from a former head of the Securities and Exchange Commission to an award-winning journalist to a Fortune 500 CEO. They presented on myriad topics, from set design to federal budgeting. As a new academic year begins, a review of some of the past visitors and a look at those who will be on campus this year highlight the diversity of disciplines, views and interests represented on campus as well as the opportunities afforded our students and our community.

A few of the memorable presentations in 2009-10 included:
Former SEC Chairman Arthur Levitt Jr. presenting on the regulation in the financial markets
New Criterion editor Roger Kimball on the future of a liberal arts education
Newsweek columnist and Fox News contributor Eleanor Clift on politics in the age of Obama
Novelist Margaret Atwood on writing and life as an author
Economics professor Jonathan Skinner, a leader of the Dartmouth Atlas Group, on healthcare reform

As classes resume, a stream of lecturers, well-known experts from a broad array of disciplines, will present throughout the year. A sampling of this semester's presenters include:
Nationally recognized pollster John Zogby, sponsored by the College Democrats and Republicans
Educator Doug Lemov '90, recently the subject of a feature article in The New York Times Magazine
Louis Menand, writer best known for his book The Metaphysical Club
Ohio University professor Richard Vedder on the high cost of higher education
Algebra Project founder Bob Moses '56 presenting one of the Levitt Center lectures
UCLA professor and Climatopolis author Matthew Kahn '88 on the economics of climate change
American Enterprise Institute for Public Policy Research Fellow Steven Hayward on environmental policy
University of South Carolina Professor of Political Science Gordon Smith and United States Military Academy Professor of Law Mark Welton on foreign corruption, regime stability and national security.

A full calendar of events can be found at www.hamilton.edu/calendar. More are added each day as details are confirmed.