Spencer Finch '85 Displays Lunar at Art Institute
---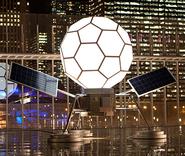 Spencer Finch '85 recently installed Lunar (2011) in the open-air Bluhm Family Terrace on top of the Art Institute of Chicago's Modern Wing. Lunar is a solar-powered, buckyball-shaped sculpture that glows at night the same color and brightness as the full moon over Chicago as Finch recorded it in July this year. Finch's artwork often utilizes color and light, and a colorimeter, a device that measures the absorbance of wavelengths of light, is one of his primary tools.
Lunar is his first solo-project at the Art Institute. ""Like just about everyone," Finch said, "I wanted to make a picture of the moon or, more specifically, of moonlight. I have always loved nocturnes and the impossible attempts to paint near-darkness in near-darkness. I figured there were probably enough literal pictures of the moon, so I began thinking about the form of moonlight and how it is actually reflected sunlight. This led me to explore the use of solar power to generate the light of the moon."

At Hamilton, Finch majored in comparative literature. After graduating, he went on to earn his Master of Fine Arts from the Rhode Island School of Design. He also studied at Doshisha University in Kyoto. Finch's art has been exhibited internationally, and his work can be found in many museum collections, including the Hirshhorn Museum and Sculpture Garden in Washington, D.C., the High Museum of Art in Atlanta, the Museum für Moderne Kunst in Frankfurt, and the Guggenheim Museum in New York.