Spencer Finch '85 Opens Art Show
---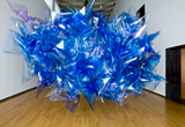 The Corcoran Gallery of Art in Washington, DC is displaying new work by Spencer Finch '85. The solo show, "My Business, With the Cloud," represents clouds in unconventional manners and draws its inspiration from sources as diverse as poetry, philosophy, history, and science. Finch's unique way of seeing and then portraying clouds is intended to remind viewers that "looking is never as simple as it looks."
"Taxonomy of Clouds" depicts scientific classifications of clouds—but photographed as reflections in puddles. If viewers look closely, they will notice the glass over the photographs is also reflecting clouds, those in the neighboring "Open Cloud." As reviewer Black Gopnik of The Washington Post explains: "There's no quick take on Finch's work, no instant read, no 20-minute visit to his show. Its complexities deserve to be unpacked, the way you'd work at one of the more metaphysical poems of John Donne or Emily Dickinson."
At Hamilton, Finch studied comparative literature and participated in men's cross country. He went on to earn his Master of Fine Arts from the Rhode Island School of Design, and also studied at Doshisha University in Kyoto. Finch's art has been exhibited internationally, and his work can be found in many museum collections, including the Hirshhorn Museum and Sculpture Garden in Washington, D.C., the High Museum of Art in Atlanta, the Museum für Moderne Kunst in Frankfurt, and the Guggenheim Museum in New York.
"My Business, With the Cloud" will be on view until January 23, 2011.