Spero '13 Supports Refugees and Organic Farming Through Levitt Internship
---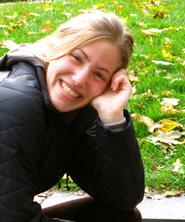 Refugees and recent immigrants to the United States often face an uncertain future. In a new culture, many must confront the daunting challenge of learning new skills and a new way of life. Fortunately, there are organizations that help new residents adjust to United States culture, some of which rely on caring interns to continue their nonprofit work.
Susannah Spero '13, a recipient of a 2011 Levitt Public Service Internship Grant, will work with Vermont newcomers to help them establish their independence in organic farming. Spero will combine her love of Vermont farming with a desire to aid refugees and new immigrants during an internship for New Farms for New Americans, or NFNA.
NFNA is a program administered by the nonprofit organization Association of Africans Living in Vermont, or AALV. NFNA provides refugees and immigrants from five countries the tools, education, and land they need to get their start in organic farming in Vermont. Participants are granted a plot of land at the Intervale Center, an incubator farm in Burlington, and receive further financial and technical support until they are ready to farm independently.
This summer, the program will be involved with 85 farmers, 65 of whom market their produce through NFNA but do not yet have their own clients. Spero will work with this group of 65 during every stage of the farming process, from planting to harvesting to marketing. Most participants in NFNA were farmers before their arrival in America, and so farming in general can provide a source of comfort for them in an unsteady time. However, because the farming climate is extremely different in Vermont than in their previous homes, most participants need help learning new farming techniques, as well as how to market their crops.
The previous summer, Spero worked as an apprentice at a small, organic family farm in Central Vermont where she learned about farming technique and practices. Currently, NFNA needs interns with organic farm experience, and so Spero will have the opportunity to draw from her thorough training. Her prior experience will allow her to play an integral role in the organization.
Spero will be conducting small technical workshops, developing a planting schedule on a field wash station, organizing field walks, assisting with post-harvest duties, as well as carry out general farm maintenance. Furthermore, she will assist in marketing and creating attractive farmer's market booths.
Her other duties with NFNA include taking photos of the farm plots and writing an online blog about the farmers' progress. She will also attend weekly meetings with AALV to provide the organization with feedback about the program and suggest possible areas of improvement.
Spero states, "NFNA caught my eye because it merges my two major interests: economic inequality and sustainable agriculture." After her apprenticeship in 2010, Spero wanted her next summer experience to involve a farmer advocacy organization. Ultimately she chose to intern at NFNA because it stood out for its support of immigrants in need as well as organic farming.
In her free time, Spero enjoys hiking, traveling, painting and cooking. She is an Emergency Medical Technician with the Hamilton College Emergency Medical Service and a Phonathon Caller. She has an interdisciplinary concentration in socioeconomic and political studies, and a minor in studio art.
Spero's internship with NFNA allows her to combine two longtime interests as well as engage in an activity she loves. She says, "I love working with the land and I'm really looking forward to farming for a greater purpose… I want to leave the internship feeling that I made a difference in peoples' lives and had a good time doing so."
Spero is a graduate of Croton-Harmon High School in New York.