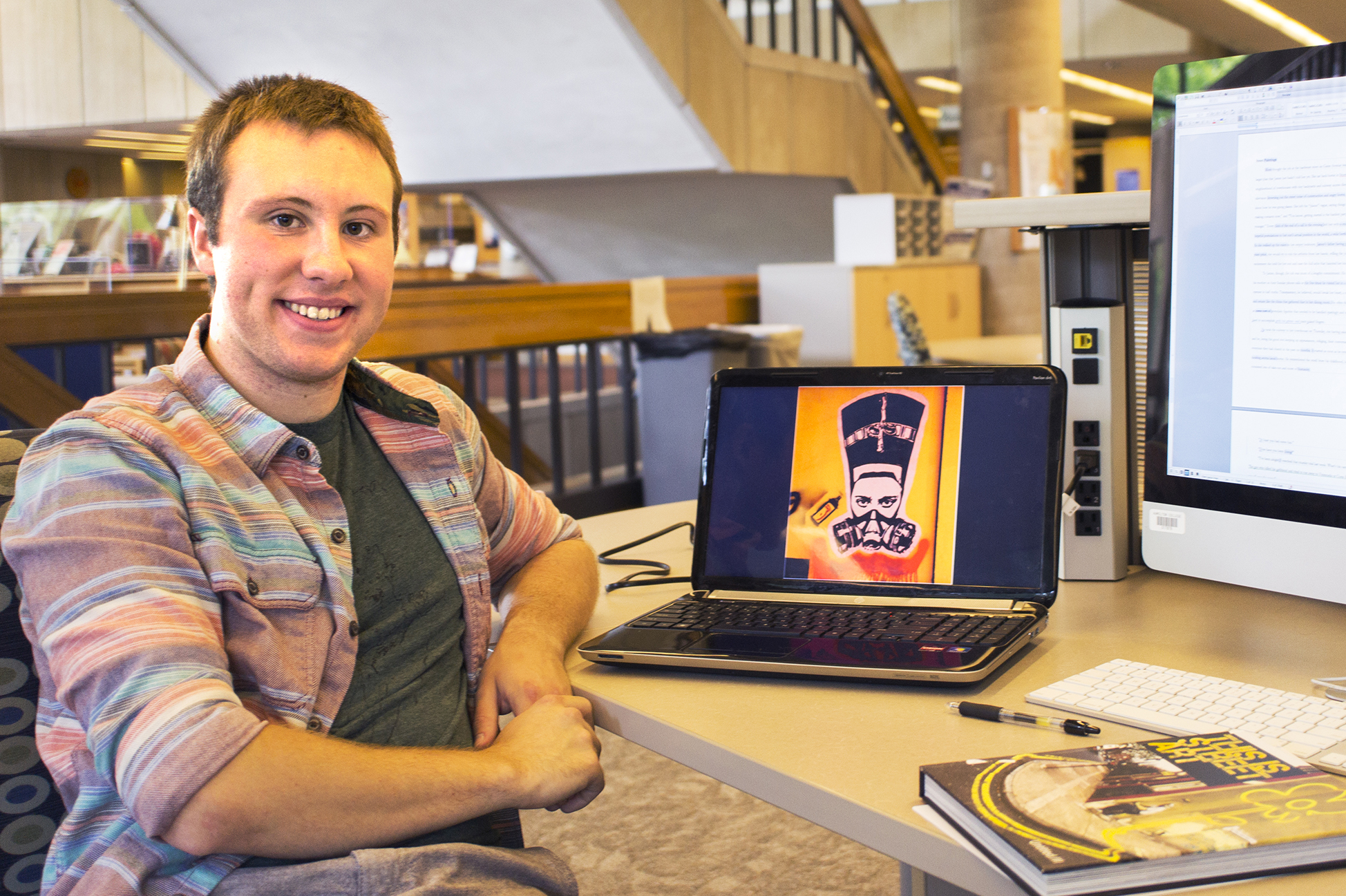 Rushing through the dimly lit tunnels of the subway, passengers might be too focused on their transportation to pay any attention to the changing gallery of graffiti on the walls. Yet each piece in this underground collection has a story, an author, an objective. Collin Spinney '16, a creative writing major, is examining this through an Emerson project, "Beautiful Deviancy: A Work of Fiction and Poetry Born Out of Activist Art." Spinney is working under the supervision of Professor of English Naomi Guttman, examining the illegal urban art culture that has been evolving since the emergence of counterculture graffiti in the late sixties.
Graffiti art first gained popularity with the introduction of "tagging": writing your name (or pseudonym) in a public place to "strike out against a government and a society that treats you as less of an individual," Spinney explained. While graffiti began as a reaction to oppression, it has since been adopted as a popular art form, especially in urban neighborhoods. Although graffiti has remained a popular form of self-expression, "street art" has evolved to be more responsive to social issues and increasingly audience centered.
Spinney first became interested in the culture surrounding these mediums after watching the popular documentary, Exit Through the Gift Shop: A Banksy Film. Spinney was intrigued by these individuals choosing to do something illegal, yet seemingly making a career out of it. To illustrate this point, consider the well-known street artist, Banksy, who has gained much notoriety for his work; in fact, his pieces are sold at auctions with price tags in the six figure range. Spinney is interested in the public's dichotomous view of urban art: graffiti remains criminalized, while street art is emerging as a form of social commentary, and for some, a viable career path.
To investigate this phenomenon, Spinney is watching documentaries and reading texts published on the subject, but is also using more informal outlets, such as blogs, social media, and the popular "metasite," Reddit. Spinney will be visiting New York City to observe his subject matter firsthand, then authoring short stories which he will present during a public reading in the fall. Although Spinney was initially intrigued by what pushes these individuals to this artform, his focus is no on audience's reactions to these works and the subsequent effect of those reactions on the artist.
Spinney described the project as a public personal exploration; he is developing his own opinions on the artform and how these pieces affect him, but is also writing stories to be shared, with the hopes of sparking new ideas in other people. When asked about his inspiration for the project, Spinney stated that he wanted to "take [his] own art form and explore another art form through it, adding the lens of creative writing to street art." The project has given him a greater appreciation for other types of art, but has predominantly reinforced the importance of the artist over the art, in Spinney's opinion.
"The problem with the project," Spinney revealed, "is that the peak of street art was in the early 2000's." Now, urban art has become highly commercialized, moving against the counterculture it once epitomized. "There will always be the starters and the stars," Spinney clarified, "but as a whole, street art isn't something people are against."
When writing the accompanying short stories, Spinney likes to contemplate the lives of the individual artists. Specifically, he likes to hypothesize about sources of friction in the artist's life, what's driving them to this art form, and how he or she is changed by their experiences on the streets. Spinney is fascinated by the creative powers of writing; the nuances that can alter a sentence and the emotional expression in a stranger-oriented vignette.
Collin Spinney is a graduate of Raymond High School in Raymond, N.H.