Steinberg '66 Establishes $1 Million Scholarship Endowment
---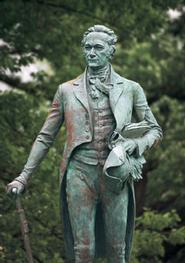 Property developer Stephen Steinberg '66, a generous supporter of the College, is establishing a $1 million endowment to create the Steinberg-Lalli Scholarship Fund. Students with need who are accepted to Hamilton from the Acton-Boxborough Regional High School, the public secondary school in Steinberg's community, will be given first consideration for support from this fund. Steinberg's objective is to support Hamilton's
need-blind initiative
and encourage students from the Acton and Boxborough area to apply to the college.
Hamilton's mission as a college of opportunity is enhanced by your decision to help this initiative with a gift to scholarship endowment … The gifts you are directing from your foundation will have a far-reaching effect on our students and the College," wrote President Joan Hinde Stewart.
Steinberg has spent his business career in the Acton area. "With college costs rising, the economic pressures caused by the recession and Hamilton's adoption of a need-blind policy, the time seemed appropriate to make this gift," said Steinberg. Although not a scholarship recipient while at Hamilton, Steinberg noted that he washed dishes at his fraternity in exchange for meals.
The scholarship will be funded by the Steinberg-Lalli Charitable Foundation established by Steinberg and Joseph Lalli, who were longtime friends and business partners. Lalli, son of Italian immigrants, entered the teaching profession after graduation from college and was an astute investor as well. The foundation was established a year before Lalli's death as a vehicle to provide opportunities for others less fortunate. Up to this time, foundation funds have primarily been focused on affordable housing projects. This scholarship is being established in Lalli's honor, according to Steinberg.
A history major and member of Phi Beta Kappa, Steinberg earned an MPA from Harvard and a law degree from the University of Pennsylvania after graduation from Hamilton. He attributes his ongoing bonds to the College to his sense of loyalty and gratitude. He "thought highly of his professors and fellow students" while at Hamilton. David Ellis, a professor of American economic history and a noted New York State historian, was one of the faculty members who were particularly memorable to Steinberg.
Hamilton announced its decision to become need-blind in March 2010. The policy means that admission decisions are made without considering an applicant's ability to pay. The College already meets the full demonstrated need of every student it accepts and will continue to do so.
"Many Hamilton graduates were able to attend the college only because of the generous financial aid they received as students," said Chairman of the Board of Trustees and former Procter & Gamble CEO A.G. Lafley, at the time of the announcement. "This is an important moment in the nearly 200-year history of our college, which has a long tradition of providing scholarship aid for those who would otherwise be unable to afford a Hamilton education." The Steinberg-Lalli Endowment will help ensure that this tradition will be sustained.