Stephanie Ryder '09 is Named Hamilton's Eighth GOLD Scholar
---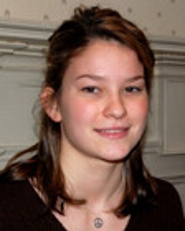 Hometown: Brooklyn, NY
High School: James Madison High School
Major: Government
Intended Minor: Russian Studies
Last movie seen in theaters: This Christmas
Last book: A Walk Across America by Peter Jenkins
Favorite Music: Jedi Mind Tricks, Gym Class Heroes, Seu Jorge
Fondest Hamilton Memory To-Date: Winning the New York State Division III Women's Rugby Championship in 2006, and the 2 a.m. mud sliding celebration that ensued.

Thanks to the generous support of its young alumni, Hamilton College is pleased to name Stephanie Ryder '09, of Brooklyn, NY, as its eighth GOLD Scholar.

Steph came to Hamilton in 2005 from a large New York City public high school, ready to devote her time to academics and varsity women's ice hockey. Her athletic ambitions changed direction, however, when Phyllis Breland '80, director of opportunity programs, suggested she expand her horizons, perhaps by trying out for the Hamilton College Women's Rugby Football Club, the "Lady Exiles." Steph took Ms. Breland's advice to heart and now captains the New York State Division III women's rugby team, represents her class on the Judicial Board, works as an intern in the Athletic Department, and acts as a student representative to alumni and parents on behalf of the Annual Fund. Each of these activities formed the basis for her unique Hamilton experience and prepared her for success off the Hill.

Coming to Hamilton was a last-minute decision for Stephanie, a Brooklyn-born student-athlete. Only after receiving her acceptance letter did she first travel to Clinton. At the advice of her parents, she stopped on the Hill, after visiting several other area colleges, and found a beautiful campus that she immediately realized would become home for the next four years.

She fell in love with Hamilton as a place, but more importantly, she fell in love with the people. On her first visit, she sat down in Commons for lunch with her father. As the dining hall filled up, James Head '08 sat down at her table and struck up a conversation, gladly answering questions and expanding on what she learned during her tour. James' welcoming kindness resonated with Steph and confirmed that Hamilton was the school for her.

Steph discovered her passion for rugby at Hamilton. As a member of the "Lady Exiles," she formed lasting friendships and helped mold Hamilton rugby into the success story it is today. In the fall of 2006 she helped lead the team to victory in the New York State Division III Championship, and in 2007 helped them make the move to Division II, where they competed in the semi-finals and finished third in the league. Beyond the competition on the field, Steph has developed friendships with fellow "ruggers" from all walks of life. Spending weekends crammed in a car, singing team songs and driving to rugby matches is now an idyllic scenario she would not have imagined just a few years ago.

Leaving the rules of rugby on the field, Stephanie is still an advocate for honor and justice. This is manifested in her service to Hamilton's Judicial Board (J-Board). The J-Board, charged with maintaining Hamilton's Code of Conduct, affirmed her interest in law enforcement and the judicial process. As a student representative, she helps decide disciplinary action alongside members of the faculty and administration, which plays into her exploration of a career in law and law enforcement. She only "wishes students cared more about [J-board] elections" because members of the board set standards for student behavior on a regular basis and have a profound effect on life on the Hill.

Participating in club athletics, volunteering in Hamilton's judicial process, and holding down two student jobs make Steph an expert in time and priority management, skills that she realizes are valuable in the working world. Furthermore, her work as a student-alumni ambassador for the Annual Fund and intern in the Alumni Office gives Stephanie a clear understanding of the power of giving back to Hamilton. And as a recipient of financial aid scholarship from the Annual Fund, she is grateful to the GOLD alumni who made a difference in February's Leap Year Challenge.

Leap year aside, Hamilton's extended community is a regularly inspiring force. Steph fondly remembers when Mark Oakes, her first-year psychology professor, showed up to support her first rugby match. To Stephanie, who came from a high school of over 5,000 students, the sense of community at Hamilton means a great deal. She appreciates the collective support of young alumni who make experiences like hers possible. And this support is cyclical. "Whenever I see a visitor, I try to make them feel more comfortable and point them in the right direction." This summer she will keep her options open by taking both the LSAT and the GRE and hopes to work as an intern at a law firm or the FBI. Regardless of where she lands you can bet that a rugby pitch won't be too far off.

--by Peter Kopp '07

GOLD Scholars is an initiative supported by the Annual Fund, which has always provided direct support for the College's most important current priorities, especially scholarship aid. Starting last year, gifts from the GOLD Group – Graduates of the Last Decade – specifically support students on campus. With each $15,000 increment collectively contributed, the College will select a student as a GOLD Scholar for 2007-08.